Now You See Me 2's Plot Description Could Not Be More Boring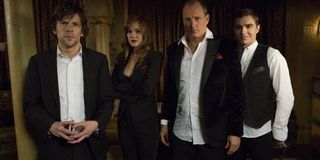 More details surrounding Now You See Me 2 have been released. But rather than building up anticipation for the magical sequel it has immediately underwhelmed.
That might seem a bit harsh, but wait until you see it for yourself. It will almost make you forget how entertaining the original was. You can read the first blurb for Now You See Me 2 below.
Yawn. Seriously where is the clever wordplay and hint of invention that was obvious all the way through Now You See Me until its preposterous final act? Jesse Eisenberg, Mark Ruffalo, Morgan Freeman, Woody Harrelson, Michael Caine, and Dave Franco will each return for the follow-up. Meanwhile Masters Of Sex's Lizzy Caplan and Kill Your Darlings' Daniel Radcliffe will join them this time round too. Lizzy Caplan will portray a character named Lula while Harry Pot- I mean Daniel Radcliffe will star as Walter. Daniel Radcliffe's character has already been confirmed to be Michael Caine's son in the film, something that the veteran actor revealed himself earlier in October. It was also recently reported that Lizzy Caplan will replace Isla Fisher in the upcoming sequel. Lizzy Caplan is set to take the female lead role in the film after the Hot Rod actress was forced to withdraw due to her pregnancy.
Now You See Me 2 has actually undergone quite a few changes. Louis Leterrier was supposed to return following his success on the original. However he has now pulled out and been replaced by G.I. Joe: Retaliation's Jon M. Chu. Will all of these alterations behind the scenes affect the final film? Perhaps. But with Jesse Eisenberg's profile set to get a bump thanks to his performance as Lex Luthor in Batman V Superman: Dawn Of Justice, there is still every chance that Now You See Me 2 will replicate the surprising success of its predecessor when it is released in 2016.
A part of me is intrigued by Now You See Me 2. While the original was almost completely scuppered by its ending - which, SPOILER WARNING, saw Mark Ruffalo's FBI agent, Dylan Rhodes, revealed as the real leader of the Four Horsemen - it was still for the most part preposterously entertaining. Jesse Eisenberg, Woody Harrelson, Isla Fisher and Dave Franco each developed an enjoyable patter between themselves, and while Isla Fisher will be missed, the addition of Lizzy Caplan and the fact that the always charismatic Mark Ruffalo will also be heavily involved now suggests that a new intriguing dynamic will permeate throughout the film. When you throw in Daniel Radcliffe, Michael Caine, Morgan Freeman and Jay Chou into the mix too then there is enough acting talent there to keep even the most mediocre cinematic effort afloat.
Your Daily Blend of Entertainment News