Now You See Me 3 Is Already Happening, Even Before 2 Is Released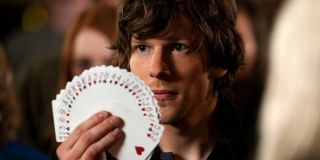 Now You See Me 3 is already in the works. Your eyes are not deceiving you. This is not a sleight of hand or an illusion. This is happening, people, and we're still more than a year away before the second film hits theaters. This means that the semi-decent magician-heist film is now becoming a trilogy.
As reported by Variety, the news of Now You See Me 3 was announced during a Lionsgate company conference call to discuss quarterly earnings with analysts. CEO Jon Feltheimer stated that the studio has already begun early work on the third installment, as they expect Now You See Me 2 to pull in a hefty amount of box office dough.
The first film debuted to mixed reviews and currently stands at 50% on Rotten Tomatoes, which, if you remember how high school grades work, means it failed. However, it made more than $351 million worldwide with a production budget of $75 million, which was all the ammunition the studio needed to sign off on a sequel.
The story centered on a band of criminal magicians known as The Four Horsemen, played by Jesse Eisenberg (Batman v Superman), Woody Harrelson (The Hunger Games), Isla Fisher (The Great Gatsby) and Dave Franco (Neighbors). With each astounding performance they would pull off another heist, stealing massive amounts of money from either a bank or a particularly wealthy individual. A pair of detectives, played by Mark Ruffalo (Avengers: Age of Ultron) and Melanie Laurent (Enemy) were hot on their trail. Spoiler alert for anyone who hasn't seen the first film, but it all ended with The Four Horsemen pulling off their biggest stunt yet and discovering that Ruffalo's Dylan Rhodes was the one secretly leading them down a bread crumb trail to become members of an ancient order of magicians.
Now You See Me 2, officially called Now You See Me: The Second Act, will see the Horsemen resurface to come face to face with a new enemy who wants them to pull off their most dangerous heist to date. Director Jon M. Chu recently wrapped production on the film for a June 10, 2016 theatrical release. Most of the principal cast members are returning for the sequel, including Morgan Freeman and Michael Caine. However, Lizzy Caplan (Masters of Sex) will replace Fisher, and Harry Potter himself, Daniel Radcliffe, has joined the fray.
As Feltheimer said during the conference call, Lionsgate believes See Me 2 one will top the first film's box office numbers, hence such early motions getting Now You See Me 3 off the ground. It's still mind-blowing that an average and dare I say semi-forgettable film such as this could become such an investment for the studio, but it doesn't take much nowadays to warrant sequels -- or in this case a trilogy.
Your Daily Blend of Entertainment News