Now You See Me 2: What We Know So Far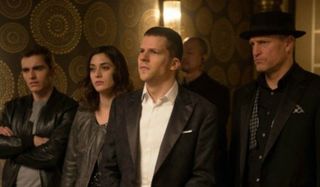 Now You See Me was a surprise hit when it was release back in the summer of 2013. It ultimately grossed the hugely impressive sum of $351.7 million, even though it went up against the likes of Man Of Steel, Fast & Furious 6, Iron Man 3, and Star Trek Into Darkness during its time in theaters.
Obviously, having made Lionsgate, Summit Entertainment, and K/O Paper Products a substantial amount of money, plans were almost instantly made for a sequel to be put into motion, and the countdown clock for its arrival has begun.
Now You See Me 2 is now just over five months away from hitting theaters, as it's due to hit cinemas on June 10th. But since quite a lot happened in the original, and the follow-up features some new faces joining the already established cast, we've decided to throw together a handy guide for Now You See Me 2 that includes all the rumors and reports regarding the film that have been circulating. Let's start by taking a look at the first teaser trailer, shall we?
Ready to find out what kind of magical hijinks the large ensemble is up to this time around? Well, you can find out exactly what we know so far about Now You See Me 2 by taking a look below.
SPOILERS AHEAD: The below article features spoilers for Now You See Me. If you want to have a look at Cinema Blend's spoiler-free review for the original, have a click right here. For those of you that want to learn about Now You See Me 2, proceed ahead … you've been emphatically warned though.
The Director
Despite being originally approached, Now You See Me's director Louis Leterrier decided not to return for the sequel. This left a bit of a vacuum in terms of the vison for Now You See Me 2, but it was eventually revealed that Jon M. Chu was hired to fill the void. While Chu's resume admittedly includes the likes of Step Up 2: The Streets, Step Up 3D, Justin Bieber: Never Say Never, Justin Beiber's Believe, and the critically mauled Jem And The Holograms, the fact that he oversaw the relentless-yet-nonsensical, G.I. Joe: Retaliation means that he's already had experience on a thinly plotted but still nevertheless entertaining mainstream flick. It will be a tough ask for Jon M. Chu to emulate the efforts of Louis Leterrier, though, as the French director's speedy direction immediately moved Now You See Me on before you could consider the plot holes and editing that made the tricks possible. Ultimately, the idiotic conclusion to Now You See Me was one step too far for the film to cover-up. Let's just hope that its story is a little tighter this time round.
The Story
The current plot details for Now You See Me 2 have confirmed that it will be set one year after the original, while the addition of Arthur Tressler's (Michael Caine) son, Walter (Daniel Radcliffe), will almost certainly cause the Four Horseman a whole host of problems. This is especially true since it's already been confirmed that Walter is on a mission to bring The Four Horseman to justice because their antics led to his father losing millions and being imprisoned. The trailer also teased that the sequel will be set in various exotic locations – including London and Las Vegas – and will include the same kind of magical set-pieces that the made the original so enjoyable. If there's any actual justice in the world, then we'll also learn more details about Mark Ruffalo's Dylan Rhodes, as his reveal as the secret member of the Four Horseman was one of the main reasons why Now You See Me deflated. The first trailer for Now You See Me 2 even seemed to make a reference to its ending, suggesting that it was just the beginning, with Morgan Freeman's Thaddeus Bradley declaring, "First act just a set-up for even bigger reveal."
Dylan Rhodes
Played by the always magnificent, and recent recipient of his third Oscar nomination Mark Ruffalo, Dylan Rhodes' headstrong pursuit of the Four Horseman drove the plot of the original Now You See Me forward, as he followed the group from city to city seemingly trying to figure them out so that he could arrest them. Of course, we believed that until it was revealed that Rhodes had been working in cahoots with the Four Horseman all along, and that he'd created this entire masterplan to punish Morgan Freeman's Thaddeus Bradley because his antics had led to the death of his father, Lionel Shrike, decades ago. Dylan Rhodes then introduced the horseman to the Eye, before it was revealed that he was their secret benefactor. It was far-stretched and silly, but Now You See Me had done just enough to warrant such an ending. The sequel now has the responsibility of making Dylan Rhodes a well-rounded character other than the implausible mirage that the original ultimately turned him into. But, since Mark Ruffalo is playing him, there's every chance that the stunning thespian will be able to do just that and surprise us in even bigger ways than the first film.
J. Daniel Atlas
With Mark Ruffalo's Dylan Rhodes now revealed as the brains behind the entire operation, does this mean that Jesse Eisenberg's J. Daniel Atlas' prominence as leader of the group will deteriorate? Does it even matter? Not really. A part of the success of the original was the patter and, mostly, equal billing of Eisenberg and his three fellow Horsemen. Eisenberg was given the nickname of The Lover, after the sixth Tarot card, and was publicly seen as the leader of the Four Horseman - something that only stoked the arrogance of the already arrogant illusionist and street magician. With Batman v Superman: Dawn Of Justice due out around two-and-a-half months before Now You See Me 2, you can expect Jesse Eisenberg's status to get a hefty bump just ahead of the follow-up - which will probably mean that his face (and short hair-do) will be plastered all over the promotional material in the weeks leading up to release. Plus, the trailer made sure to have him front and center as it showed the new Lex Luthor causing mayhem with falling rain before disappearing into a puddle. David Blaine eat your heart out. %NEXT_PAGE%
Jack Wilder
Alongside the returning Jesse Eisenberg will be Dave Franco's Jack Wilder, a.k.a. Death, who in the original had the rather traumatic job of faking his own death in a high-speed car crash across a Manhattan bridge. It was revealed in the chaotic conclusion that Jack was still alive and well, and he even still had possession of his Tarot card, which, naturally, was for Death. Dave Franco's cheeky, nervous charm was a key component in the dynamic of the Four Horsemen, and his return is integral to making the transition from the original into the sequel as smooth as possible. Just don't trust any scene that shows him dying in Now You See Me 2. %NEXT_PAGE%
Merritt McKinney
Woody Harrelson wouldn't just let Dave Franco and Jesse Eisenberg return for Now You See Me 2 without him. The most experienced member of the Four Horsemen, Harrelson's Merritt McKinney was named after The Hermit tarot card. He is a self-proclaimed psychic, as well as a mentalist and hypnotist. He was also rather famous in his youth too. Unfortunately, his treacherous brother ran away with all of his money, which left him with a long hard trek back to professional glory - something that he achieved with the Four Horseman throughout the original. And while the first trailer for Now You See Me 2 didn't really show too much of Merritt, we can expect Woody Harrelson to provide a mixture of sturdy comic relief and dramatic weight throughout. After all, he is Woody Harrelson, and the reality is that the guy is great in everything he does. %NEXT_PAGE%
Lula
One of the main changes to Now You See Me 2 is that Isla Fisher's Henley Reeves/The High Priestess won't be returning as a member of the posse. Instead, Lizzy Caplan's Lula has filled the female shaped hole in the Four Horseman. The trailer showed Lizzy Caplan appearing onstage alongside Jesse Eisenberg and Woody Harrelson, and there is even a shot of her as she confidently strolls through Las Vegas as part of the notable quartet. In fact, we even got a tease of her magic abilities, as she shook dozens of birds out of her jacket. Of course, she also displayed the dry wit that has been a trademark of Lizzy Caplan's throughout most of her career. The actress is just about as good a replacement for Isla Fisher for which the sequel could have hoped. Those of you disappointed that the Australian dropped out can blame both her pregnancy and the fact that she almost died shooting the original Now You See Me. %NEXT_PAGE%
Thaddeus Bradley
Obviously, the inclusion of Morgan Freeman in any film is encouraged, but it will be especially interesting to see Freeman's Thaddeus Bradley in Now You See Me 2, as the ex-magician, who had no problem profiting by selling the secrets behind other magicians' tricks for 30 years, will be on the hunt for vengeance. The end of Now You See Me saw Dylan Rhodes revealing to Thaddeus that he was the mastermind behind the Four Horsemen, and that he'd framed Thaddeus as the supposed Fifth Horseman. The trailer has also proven that Freeman's Thaddeus Bradley will still be involved, while it also appears as though he'll be pulling the strings from prison. We have a pretty good idea of who he'll be working with on this mission too … %NEXT_PAGE%
Arthur Tressler
Like Morgan Freeman's Thaddeus Bradley, Michael Caine's Arthur Tressler found himself being scuppered by the Four Horseman over the course of Now You See Me, ultimately taken for a good bit of cash. Originally the foursome's sponsor and financier, the insurance magnate was later the victim of one of their tricks when they robbed millions from his bank account, and then showered it upon one of their crowds… which just so happened to be filled with victims of Hurricane Katrina that had been denied insurance claims by Tressler's company. Obviously, Tressler wasn't too happy with this, and the trailer proves that, probably with the help of Thaddeus, he's seeking vengeance. This fury has even extended to his immediate family. This especially extends to Arthur Tressler's son, who is a new and much welcomed face to Now You See Me 2's impressive ensemble. %NEXT_PAGE%
Walter Tressler
While Daniel Radcliffe playing Michael Caine's son is already immediately recognizable as a perfect casting choice, the fact that he's apparently playing an inept magician just makes his appearance umpteen times better. The trailer showed Radcliffe's Walter Tressler failing at his own sleight of hand, before then apparently welcoming the Four Horsemen to his rather lavish Las Vegas hotel suite. Due to the fact that the clip was only a minute long we still don't know anything at all about his plan, but the fact that he's playing the son of one of Now You See Me's victims suggests that he'll be hell bent on avenging his father. While, hopefully, the follow-up will sneak as many Harry Potter references as they can in there too. Otherwise, casting Daniel Radcliffe will just have been a huge waste. Why cast The Boy Who Lived in a movie about magic and not at least make some kind of reference to his time as a kid wizard? I'm going to wager guess that Daniel Racliffe's Walter Tressler won't just around for the one film, either. Now You See Me 3 has already been pre-emptively green-lit, and much like many other names in the cast, his is one that the producers will want to keep around. %NEXT_PAGE%
Natalie Austin
Another new addition to the Now You See Me 2 team is Sanaa Lathan (The Perfect Guy, The Best Man). The actress has been brought on to play the brand new government-employed authority figure – specifically FBI agent Natalie Austin). No doubt, Lathan will be on the hunt to try and snare the Four Horsemen as they conduct their magical escapades and various Robin Hood-esque illegal activities, while she'll also probably be more than aware of the murky past of her predecessor, Dylan Rhodes. It's hard to see Now You See Me 2 following the path of the original by revealing Austin to be the sixth member of the Horseman team, so we can expect her to be driven and honest in her pursuit of capturing the magical ensemble.
Your Daily Blend of Entertainment News