Why Star Wars: The Force Awakens Might Not Break Box Office Records, According To Disney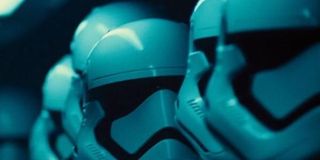 It's common for movie studios to downplay their box office numbers if they're not sure a movie is going to do as well as expected. This allows the studio to save some face if the movie doesn't do as well as the predictions, or allows them to come out on Monday morning and say the movie "exceeded expectations" if it does well after all. Normally, however, you would not expect Disney to be playing this game with The Force Awakens. That movie is as close to a guaranteed record breaker as anything could be, right?
Those previously mentioned analysts are predicting an opening weekend for Star Wars: The Force Awakens that could be as little as $185 million or as much as $300 million dollars. The thing is, even the low-end prediction here would more than double the biggest December opening ever. According to Walt Disney Studios chairman Alan Horn, there're a lot of other things going on in December that has a tendency to make the box office a lot smaller.
According to The Hollywood Reporter, the largest December movie opening was the first part of The Hobbit trilogy, at $85 million in 2012. That's a far cry from the $208 million that Jurassic World did this past summer. Horn seems very focused on adjusting expectations here. Just because it's a Star Wars movie doesn't guarantee summer season numbers. The movies are a destination in July. In December, there are so many other destinations, like the mall and grandma's house, that the movies may just have to wait.
With over $50 million in advance ticket sales already booked, it would seem The Force Awakens would have little to worry about, but those numbers cut both ways. How many people are planning to see the movie opening weekend who haven't already purchased tickets? It's possible that many fans, who will see the movie eventually, are planning to hold off until the opening weekend insanity dies down. Avatar was a movie released in December, and while it's the highest grossing movie ever (for now), it doesn't hold any opening weekend records. Star Wars could very well follow suit.
It seems hard to believe that Star Wars: The Force Awakens won't become the highest grossing December movie ever, but it can do that and still fall well short of the over $200 million it would need to do to set overall records. Let us know if you're intentionally, by choice or circumstance, putting off seeing Episode VII.
CinemaBlend's resident theme park junkie and amateur Disney historian. Armchair Imagineer. Epcot Stan. Future Club 33 Member.
Your Daily Blend of Entertainment News
Thank you for signing up to CinemaBlend. You will receive a verification email shortly.
There was a problem. Please refresh the page and try again.