Why Victor Frankenstein Isn't Actually A Monster Movie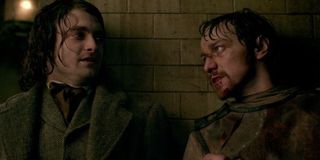 The one thing you expect from a Frankenstein film is monsters. Well, that's unless your Paul McGuigan, the director of Victor Frankenstein, which is Fox's reboot of the iconic Mary Shelley character and book. McGuigan has admitted that the whole reason he found himself interested in Victor Frankenstein was because its story was one of friendship and passion rather simply consisting of Victor and Igor chasing down their barbaric creation.
I sat down with Paul McGuigan at the start of November to talk about Victor Frankenstein. During our chat the Scottish filmmaker, who has the alluring cinematic pairing of Daniel Radcliffe and James McAvoy at his disposal for Victor Frankenstein, explained to me why he was so intrigued by the script. You can check out his response below:
It's interesting to hear Paul McGuigan explain that Victor Frankenstein used to have a much bigger budget. It's believed that the film was finally brought to fruition for around $40 million, a total that, in the end, doesn't really do the film justice as it struggles to turn this cost into either a well-rounded or pulsating blockbuster.
As Paul McGuigan's comments suggest there are a lot of intriguing ideas in Victor Frankenstein's script, which was written by Max Landis, and, from the sound of things, was actually inspired by The Social Network. Most of these are teased at in the film, but it's just a shame that it never actually covers any of them in an intriguing or entertaining fashion, though.
Victor Frankenstein is currently being touted for a five-day Thanksgiving opening weekend of around $12 million. Which is probably just about the best it can hope for since it has stiff competition at the box office in the shape of Hunger Games: Mockingjay – Part 2, which was only released on Friday and has already made $300 million worldwide, as well as the latest Pixar film The Good Dinosaur, and the Rocky spin-off, Creed. Plus it has also doesn't help that it has been savaged by critics too, and currently just has a Rotten Tomatoes score of 17%.
If Victor Frankenstein ends up with $12 million as its opening total then it will be a long, hard slog for it to get any sort of its budget back. Which is a shame because both James McAvoy and Daniel Radcliffe are just as appealing and magnetic as you'd hoped in the film, it's just the rest of it that's a let down.
Victor Frankenstein is now in theaters across the USA.
Your Daily Blend of Entertainment News
Your Daily Blend of Entertainment News
Thank you for signing up to CinemaBlend. You will receive a verification email shortly.
There was a problem. Please refresh the page and try again.