See James McAvoy Sporting Professor X's Signature Look For X-Men: Apocalypse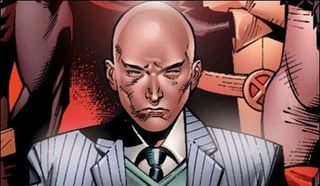 In the X-Men universe, Professor Charles Xavier has, let's just call it a signature look, and that look is bald. Like cue ball bald. That's how he appears in the comics and, as portrayed by Patrick Stewart, in the early X-Men films (as well as for a while in last year's X-Men: Days of Future Past). Up to now, however, every time James McAvoy has played the part, he's done so with a head full of luxurious brown hair. That's changing in the upcoming X-Men: Apocalypse, and with production getting under way, we've got a sneak peek of what he looks like sans hair follicles.
This photo comes from director Bryan Singer's Instagram account, and while we've been hearing for quite a while that X-Men: Apocalypse will finally see McAvoy sporting Professor X's striking do, or lack thereof, this is our first glimpse at the reality.
This doesn't really tell us much, or anything, about the movie, but it's cool to finally see. While, on the surface, it may be a small detail, it's one that is so tied to the character, it's been noticeably absent. As good as McAvoy is in the part, he's never felt quite like Professor X to many fans, partially because he's always had hair. This should rectify that situation. And the 36-year-old actor looks pretty good with any hair, so good for him.
We've seen Charles Xavier lose the use of his legs already, but we're curious to see how the loss of his hair comes about (he actually has long hair and a scruffy beard the first time we see him in Days of Future Past). In the comics, his powers cause all of his hair to fall out by the time he finishes high school. That era has already obviously passed in the world of the movies, even with the rewritten timeline, so there's something else going on. Perhaps it'll be linked to the serum he's no longer taking.
Directed by Singer, working from a script by Simon Kinberg, X-Men: Apocalypse stars returning players like McAvoy, Michael Fassbender, Jennifer Lawrence, Rose Byrne, Evan Peters, Lucas Till, and Nicholas Hoult, but it's also adding ton of new actors and superheroes. Oscar Isaac plays Apocalypse, Tye Sheridan is Cyclops, Sophie Turner plays Jean Grey, Alexandra Shipp plays Storm, Kodi Smit-McPhee is Nightcrawler, Ben Hardy plays Angel, Lana Condor plays Jubilee, and Olivia Munn shows up as Psylocke. X-Men: Apocalypse hits theaters in just over a year on May 27, 2016.
Your Daily Blend of Entertainment News
Your Daily Blend of Entertainment News
Thank you for signing up to CinemaBlend. You will receive a verification email shortly.
There was a problem. Please refresh the page and try again.