Victor Frankenstein Trailer: Daniel Radcliffe And James McAvoy Look Incredible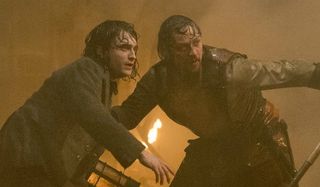 After making a splash at San Diego Comic-Con earlier this year, 20th Century Fox released the first Victor Frankenstein trailer. X-Men: Apocalypse's James McAvoy and a post-Harry Potter Daniel Radcliffe star as the monster-making mavens Dr. Frankenstein and Igor in "a new twist on the legend." Watch the footage below.
Hopefully by now we all know the story of Mary Shelley's Frankenstein — a scientist experimenting with the reanimation of corpses brings to life a man, though a monstrous man at that. There have been many spins on the tale since then, including one starring Aaron Eckhart that should stay in the shadows where it belongs, and the Victor Frankenstein trailer shows yet another, more explosive twist.
Instead of being a lonely little hunchback, as he's commonly portrayed, Radcliffe's Igor is Victor Frankenstein's contemporary, and the two form a very Sherlock Holmes-y relationship. (The Robert Downey-Jude Law Holmes.) Their initial goal is to help humanity with their research, but Victor takes things too far. As we see in the footage, he reanimates something — or somethings — he shouldn't have, and now the pair have to fight for their lives, while Igor attempts to bring his buddy back from the brink of madness. But, for better or worse, we're getting some serious Van Helsing vibes from this. It's probably the mixture of Victorian, steampunk, and horrific beasties that permeates this setting, but it's not the best film to be linked to.
It's difficult to judge movies based on one trailer. In fact, we shouldn't be doing that. As far as trailers go, however, this one seems like the film could be a bit of fun, but not the kind of fun McAvoy and Radcliffe seem to be having. The duo hit up Comic-Con to chat up Victor Frankenstein, and they were absolutely delightful. When their director, Paul McGuigan, called the film "a love story" between the two characters, the actors played it up by making jokes about fan fiction and reenacting a "subtly homoerotic" scene. This "subtly homoerotic" scene:
They bring back this same spirit in their intro to this trailer, and we can only hope that the film is able to capture this camaraderie and chemistry.
Victor Frankenstein will hit theaters on November 25, just in time for Thanksgiving.
Your Daily Blend of Entertainment News
Thank you for signing up to CinemaBlend. You will receive a verification email shortly.
There was a problem. Please refresh the page and try again.