Why The Walk Is The Most Fun You'll Have At The Movies This Year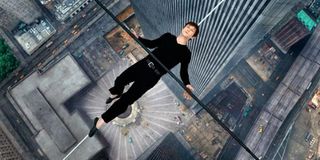 The Walk is a cinematic rarity: It's the right director making the right film in the perfect format, and producing scintillating results. If you're still on the fence regarding 3D technology, then The Walk will convince you otherwise. In fact, it might even convince you to try and precariously balance on top of said fence while deploying a French accent at the same time.
For those of you who don't know, The Walk revolves around Philippe Petit (Joseph Gordon Levitt) who travelled from France to New York and then miraculously walked on a tight rope between The Twin Towers on August 6, 1974. He didn't just do that once though. In fact, Petit stayed on the wire for 45 minutes and travelled between the two towers eight times. EIGHT TIMES!
In a Q&A after The Walk was screened as part of the New York Film Festival, director Robert Zemeckis (Back To The Future, Who Framed Roger Rabbit, Forrest Gump, Contact, Flight) admitted that his only appeal to overseeing the film was depicting the tightrope-walking sequence. And while he might take his time getting to the titular event, once it arrives you truly get to see a director at the height of powers working wonders with 3D. Which is especially refreshing since so many directors appear to just use this technology as an after-thought nowadays.
It really is palm-sweatingly glorious stuff, and Robert Zemeckis is able to use all of the equipment that he has at his disposal to evoke a nauseating feeling of vertigo. And while that might sound like a deterrent, The Walk produces the most exhilarating movie sequence of the year that will grab hold of your gaze and then swing it through the sky as Petit does his walk.
From Petit's first step out onto the tightrope, Robert Zemeckis uses the distant sound of sirens and the whirling wind to heighten the sense of peril, before then almost gleefully going above and beyond with his camerawork, lurching it through the clouds, to make his audience sweat.
But it's with his use of 3D that Robert Zemeckis really excels. Not only does he enhance the entire film through his use of this technology, but he also makes you feel as if you stood alongside Philippe Petit as he marauds through the sky on a single, frail wire.
It's not just in this sequence, though. Because Zemeckis has juggling balls, bowling pins, and basically anything that Petit has in his hands fling out of the camera, and his use of the depth of field, especially when he's on the wire, is enough to even make a pigeon get vertigo.
The Walk truly is Hollywood spectacle at its very, very best. And while it might be flawed in places, it's also the sort of film that you'll just find yourself smiling at for no particular reason. Robert Zemeckis deserves kudos for using 3D to create such a thrilling experience. Let's just hope that future 3D filmmakers can now follow his lead.
Your Daily Blend of Entertainment News
Thank you for signing up to CinemaBlend. You will receive a verification email shortly.
There was a problem. Please refresh the page and try again.