Why We're The Millers Screwed Over Ted 2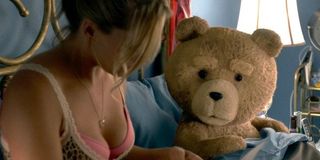 Writing a movie can be a long and arduous task. Sure, it can be hugely pleasurable and result in a vast financial reward, but sometimes, another film beats you to the punch and releases the exact same plot before you are able to release your movie. And it turns out, that was the case with We're The Millers and Ted 2, as the 2013 comedy basically told the same story that Seth MacFarlane had originally dreamed up for his sequel.
Seth MacFarlane made this admission during a recent chat I had with him regarding Ted 2, and the comedy's co-writer and director confessed that their first plan for the sequel was much different to what it turned into. MacFarlane confessed:
Seth MacFarlane went on to add that the eventual plot for Ted 2 "kind of emerged by accident" because of the fact that the Jason Sudeikis and Jennifer Aniston film had been released. MacFarlane, who co-wrote Ted 2 with Family Guy alumni Alex Sulkin and Wellesley Wild, explained that the formation of the follow-up that eventually hit cinemas came while he was shooting A Million Ways To Die In The West.
As we chatted, Seth MacFarlane recalled that his reading material during this period helped him to devise his plan B for Ted 2:
During the revision of the film's plot, it was decided that everything needed to be thrown out so that they could "start from scratch." This included getting rid of Mila Kunis' Lori Collins, who had appeared in the original movie and was initially in the sequel. But the emergence of a young lawyer character, who would eventually turn into Samantha Leslie Jackson, and the fact that MacFarlane had just had a great time working with Amanda Seyfried on A Million Ways To Die In The West convinced MacFarlane to replace Kunis with Seyfried.
It would have been interesting to see what MacFarlane could have done with his original premise for Ted 2. Because while the finished version certainly has enough genuine laughs to be worthwhile, it actually stagnates once Ted's civil rights battle becomes prominent. The We're The Millers plot probably would have complimented Wahlberg and MacFarlane's camaraderie and hijinks more. Never the less, fans of the original should still make sure to see Ted 2 when it hits cinemas. Simply because it's great just to catch up with the thunder-buddies, once again.
Your Daily Blend of Entertainment News