Ted 2 Did Not Wind Up Being The Movie Amanda Seyfried Signed Up For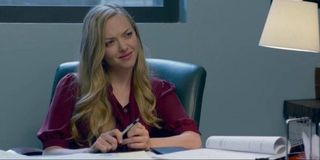 It didn't take much to convince Amanda Seyfried to join Ted 2. Having worked with Seth MacFarlane on A Million Ways To Die In The West the actress was more than happy to reunite with the writer and director. However, Ted 2 didn't end up being anything like the film that was originally sold to her. In fact, it was initially described to her as a road trip movie, an idea that MacFarlane soon dropped.
During a recent discussion that I had with Amanda Seyfried to talk about her role as Samantha Leslie Jackson in Ted 2, she admitted that MacFarlane originally imagined that the comedy would see John Bennett (Mark Wahlberg) and Ted (voiced by MacFarlane) drive across the country. Seyfried revealed:
But when Seyfried finally received the finished script from MacFarlane, she learned that the film had taken a drastic turn and the road-trip aspect of Ted 2 had been all but been eviscerated. Well, it wasn't dropped entirely, because as Seyfried explained the film does still possess a road trip. It's just ridiculously short:
That didn't stop Seyfried from joining in on the fun though. At first it was rather surprising when she was announced as Mila Kunis' replacement for Ted 2. Kunis had been an integral component to the success of MacFarlane's original comedy thanks to her camaraderie with both MacFarlane's talkig teddy bear and Mark Wahlberg. But, with Seyfried, Ted 2 got an equally impressive actress to fill the void left by Kunis, and, having already seen the comedy, I can reveal that the new addition mixes with the leading duo just as impressively as the Jupiter Ascending actress.
Ted 2 once again teams up Seth MacFarlane's crude but adorable titular teddy bear with Mark Wahlberg's John Bennett. But while Ted's relationship with Tami-Lynn (Jessica Barth) has grown in strength to the point that they're married, Bennett is recently divorced from Ted's Lori (Mila Kunis) and struggling to move on. When Ted is forced to try and prove that he is human in order to adopt a child, the pair meet Seyfried's Sam Jackson, who not only strikes up a burgeoning relationship with John, but also works as the lawyer on their case.
Ted 2 finally hits cinemas this coming Friday, and if it comes anywhere near to matching the $549.4 million total of the original then we'll likely see a Ted 3.
Your Daily Blend of Entertainment News
Thank you for signing up to CinemaBlend. You will receive a verification email shortly.
There was a problem. Please refresh the page and try again.