Why You Need To See The Nice Guys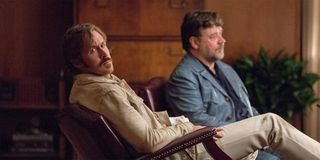 In the six-plus years that I've spent professionally writing about film, I've seen many agitations and protests from movie-goers/readers, but one of the most consistent, without question, is the complaint about the lack of originality in Hollywood today. Those movie-goers/readers aren't wrong. Week to week, we see a constant flow of sequels and branded content arriving in theaters – and while these titles aren't exclusively bad or good (many are fantastic and many are terrible), there's no arguing that they take up a lot of space on the marquee.
It creates an incredibly competitive atmosphere, where original content has to scrape and claw to survive - but in support of that struggle, there is a responsibility that all of us have as fans of the medium. Case in point, when a feature comes along that's as different, entertaining, and critically-lauded as Shane Black's new crime-comedy The Nice Guys cinephiles owe it to the art that they love to support it. What's unfortunate is that doesn't seem to be happening.
There are a lot of films that come out throughout the year that could jump start this conversation, but The Nice Guys happens to be a perfect place to start given the primary competition it faced in its opening weekend: a big screen take on a mobile game (The Angry Birds Movie) and a comedy sequel (Neighbors 2: Sorority Rising). It's certainly true that there isn't a ton of core audience crossover between the R-rated period thriller/comedy and the animated feature about furious fowl, but The Nice Guys earned far better reviews than both of its direct competition titles, so people not buying tickets can't be a matter of buzz or quality. This isn't even a situation where the studio can be blamed for not giving the release enough ad exposure, as Warner Bros. ran a big, creative campaign with plenty of hilarious trailers and fun viral bits. All sides of the industry told everyone to go see The Nice Guys, and yet it opened at number four in its first three days, with an $11.2 million take. The disturbing and unfortunate conclusion to take away from this is that film fans may clamor for more quality original content, but they don't show up for it when it's actually presented to them.
As movie-lovers, it's hard to watch something as brilliant as The Nice Guys be completely underappreciated, but what makes the situation more dire is that it's part of a larger pattern that is leading to a serious issue in the film industry. Shane Black's latest is a rare breed in Hollywood, in that it's original content made for a mid-level budget (reportedly $50 million). In recent years, fewer and fewer of these kinds of projects have been getting made at major studios, the companies instead placing all their bets on A) $100 million-plus blockbusters that *fingers-crossed* become pop culture staples, or B) micro-budget projects that can turn a profit with just a solid opening in wide release. Whether it's because a night at the theater is too expensive or because audiences feel they don't need to see certain titles on the big screen when a digital release is just a few months away, mid-budget movies like The Nice Guys wind up not getting the attention they deserve - which creates a serious problem when you consider that's the typical budget range for projects by geniuses like the Coen brothers, Quentin Tarantino, Paul Thomas Anderson and Shane Black.
Clearly there is a larger cultural importance of seeing movies like The Nice Guys in support of the future of the film industry, but on beyond all of the shop talk, what really should be driven home is that the new release deserves to be seen just because it's amazing and a true crowd-pleaser. Shane Black has been the king of quippy one-liners since the late 1980s, and his dialogue here is as sharp as crackling as ever – brought to life by two utterly brilliant performances from Ryan Gosling and Russell Crowe (not to mention young scene-stealer Angourie Rice). Things regularly get ridiculous and hilariously off-the-rails, but it all stays grounded thanks to a thrilling inherently-'70s mystery that constantly keeps you guessing and leaves you satisfied. It's as fun and entertaining as big screen experiences get, open to be enjoyed by all audiences, and there is an honest frustration that comes with trying to figure out why more people don't want to go out and see it immediately (particularly because I'm far from the only critic who feels such great affection for it).
Call it a challenge. Carve out a three hour hole in your schedule one day this week, head to your local cinema, pay the $10 for a ticket, and sit down for a screening of The Nice Guys. At worst, you may not enjoy it, but at least you've contributed money to a key part of the entertainment industry that needs it. At best, you'll walk out of the theater with a ridiculous endorphin high from laughing so much, and knowledge of a fantastic film that you can recommend to all of your friends. It's a win-win for everyone.
Your Daily Blend of Entertainment News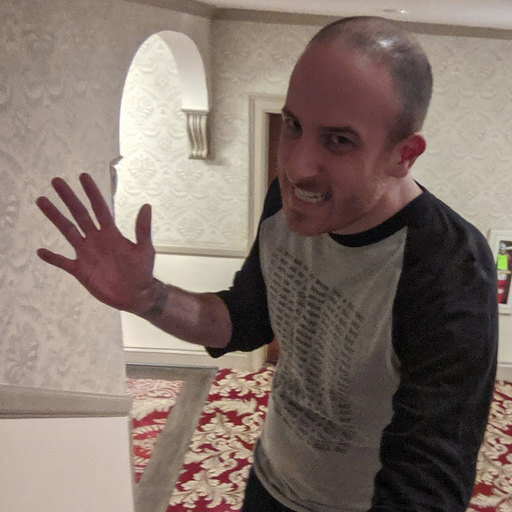 Assistant Managing Editor
NJ native who calls LA home and lives in a Dreamatorium. A decade-plus CinemaBlend veteran who is endlessly enthusiastic about the career he's dreamt of since seventh grade.