Ryan Gosling And Russell Crowe Get Cursed At And Humiliated In Hysterical Nice Guys Video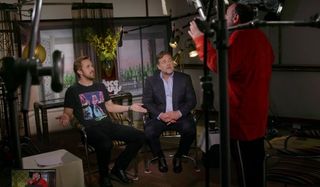 Shane Black's latest film, The Nice Guys, is an absolute riot. Part of that has to do with the fact that the director knows his way around buddy banter, and part of that has to do with the fact that everyone involved in the movie is inherently hilarious. Even the press tour for the 1970s throwback thriller has been funnier than the average modern comedy. A new video featuring producer Joel Silver, as well as actors Ryan Gosling and Russell Crowe, has just hit the web, and it provides an awesome taste of the film's humor. Check it out below.
The video starts out with producer Joel Silver approaching Ryan Gosling and Russell Crowe as they do press for The Nice Guys. He seems distraught over the lackluster financial success of The Nice Guys compared to the competition, and with a manic sense of urgency he begins laying out a plan to get the word out about the new film. As he talks he begins to build up momentum, and what follows is a profanity filled back and forth as he insults the lead actors of the film and asserts that they're not doing enough to promote the project, while they defiantly declare that The Nice Guys isn't a blockbuster and doesn't need that type of press.
The funniest part of the entire segment comes when Joel Silver berates Russell Crowe, noting that his Gladiator Oscar win "50 years ago" no longer means anything. Ryan Gosling takes a moment to give his co-star belated congratulations, to which Crowe somberly admits that his win was "a good night."
If you laughed at even a single second of this clip, then you should probably do yourself a favor and check out The Nice Guys. Although it's Joel Silver doing all of the screaming, the banter between him, Gosling and Crowe seems quintessentially Shane Black. The guy has made a career out of turning arguments into an art form. Just ceck out this scene from Kiss Kiss Bang Bang and you will see the DNA between the above Nice Guys video and his older work.
Over the last three decades, Shane Black has been responsible for some of the funniest non-comedies to ever grace the silver screen. From Lethal Weapon to Iron Man 3, and now The Nice Guys, the man knows his way around solid banter. Be sure to check out his latest filmmaking endeavor when The Nice Guys hits theaters tomorrow on May 20.
Originally from Connecticut, Conner grew up in San Diego and graduated from Chapman University in 2014. He now lives in Los Angeles working in and around the entertainment industry and can mostly be found binging horror movies and chugging coffee.
Your Daily Blend of Entertainment News
Thank you for signing up to CinemaBlend. You will receive a verification email shortly.
There was a problem. Please refresh the page and try again.