Win Tickets To The Insidious Chapter 2 Fan Experience At San Diego Comic Con!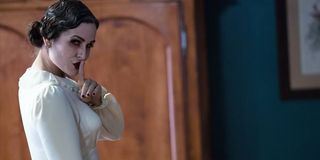 San Diego Comic Con is coming up in a few short weeks, and there's never a lack of things to see or do, both in the convention center or all over the streets of San Diego that surround it. If you've never been to Comic Con it's almost impossible to describe just how busy it gets there, with entire storefronts and buildings taken over by movie studios or game companies, all of them trying to give you a unique experience to help you remember their project.
And while Comic Con hasn't kicked off yet, we feel pretty confident that we're going to offer you access to one of the most spectacular, and definitely most terrifying, events of this year's Comic Con. We're offering our San Diego-bound readers the chance to enter the exclusive Insidious Chapter 2 Fan Experience, where Insidious 2 invites you to go further. Once you enter the haunted loft in downtown San Diego, you're treated to "insidiously delicious food, cocktails and music," as well as a bone-chillingly spooky atmosphere that will take you right inside the world of the haunted Lambert family first seen in Insidious. We've seen the plans for the events, and it's going to be way more than your average themed Comic Con party, with grisly details everywhere-- make sure to check the bathrooms!-- and even the bartenders helping set the otherworldly mood.
The Insidious Chapter 2 fan experience is happening on Thursday, July 18, just as Comic Con kicks off, and we're giving away 50 pairs of tickets to our Comic Con-bound readers, for the party kicking off at 10:30 pm. We can't send you to San Diego, but once you're there we want you to take part in the terror right alongside us! To enter, just click on over to our Facebook page, "Like" it if you haven't already, and then leave a comment on this contest post. We want to hear something a little special from you-- tell us about your own encounters with the supernatural, with psychics or hypnotists or things that go bump in the night. We'll pick 50 winners, with each winner receiving a pair of tickets-- so even if your friend doesn't win, you can bring them along! If you enter, please make sure we can contact you via Facebook. If you have it set to where we can't message you, we won't be able to tell you how to get the tickets!
To get in the mood, check out the trailer for Insidious Chapter 2 below, and click here for more on the film. See you in San Diego!
Staff Writer at CinemaBlend
Your Daily Blend of Entertainment News
Thank you for signing up to CinemaBlend. You will receive a verification email shortly.
There was a problem. Please refresh the page and try again.