The Wizard Of Oz To Return To Theaters In 3D And IMAX This Fall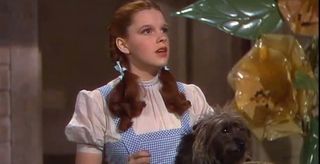 There are movie moments that we experience as kids that stick with us forever. The slow pan across Willy Wonka's Chocolate Factory is one of them. And the sight of Dorothy stepping out of her black-and-white home and into the colorful world of Oz is another. Done right, a movie can capture the wonder and beauty of the imagination with awe-inspiring grace, creating a visual that allows a child - and kids at heart - to believe in magic, if only at the movies. It's probably not possible to fully recreate that experience with the same movie, but a 3-D conversion for an IMAX screen may be the closest thing to it. At the very least, it certainly stands the chance of refreshing the visual. IMAX may succeed at doing that with The Wizard of Oz.
We heard about plans to convert The Wizard of Oz to 3D last year. Today, USA Today confirms that it's happening this fall as part of the studio's promotion for the film's 75th Anniversary. The Wizard of Oz will be converted to 3-D and IMAX in preparation for a one-week return to theaters set for September. Their aim is to digitally enhance the sound and images, and - of course - to add that third dimension to Dorothy and her Oz companions, as they follow the yellow brick road, in an effort to get Dorothy a return ticket back to Kansas. The site says we should expect the official announcement on the IMAX plans tomorrow.
USA Today goes on to say that Warner Bros. remastered the movie before bringing it to IMAX for a test run, and from what IMAX president Greg Foster says, "The sound was exceptional, the sharpness was exceptional. But it's the color that stands out. What they could do is truly amazing, maybe what people felt when they first saw it."
It's the color and that first glimpse of Oz that stands out most in my mind when I think about seeing The Wizard of Oz as a child. It will be interesting to see how the restored version of the film looks on an IMAX screen. But that's only part of the draw here. Oz's return to theaters in any capacity is an opportunity to get to see the film on the big screen again or for the first time. Now let's just hope the conversion comes out good. And the restored version of the film will be made available for home video in October.
Your Daily Blend of Entertainment News
Thank you for signing up to CinemaBlend. You will receive a verification email shortly.
There was a problem. Please refresh the page and try again.