World's Worst Iron Man 3 Publicity Stunt Sends Fake Gunmen Into Movie Theater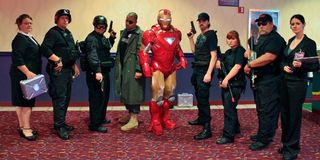 As long as there have been movies, there have been theater owners and filmmakers willing to do pretty much anything to set themselves apart and get more people to buy tickets. But it's hard to imagine a publicity stunt as dumb and inadvertently terrifying as the one pulled in Jefferson City, Missouri last weekend.
Less than a year after an actual gunman murdered actual audience members at a screening of
[[ ahref http reviews the-dark-knight-rises-5923.html www.cinemablend.com ]] The Dark Knight Rises, the Goodrich Capital 8 Theater manager Bob Wilkins planned a stunt in which a man carrying a fake gun walked into a screening of Iron Man 3. The local ABC report doesn't describe exactly what Wilkins expected to happen, but I bet you can guess what actually did-- several moviegoers called the police to report to what they naturally assumed was a threat on their lives.
Now, to be fair to Wilkins-- the guy with the gun was just one of many who appeared at screenings of the film in costume; the image you see above is from Amber and Amanda Photography, which was on hand to photograph the whole group posing in front of the screen and in the lobby. When you see a bunch of people with guns plus a dude dressed as Nick Fury plus a baby Captain America, you've pretty much got the right context. But when you see one guy with a plastic gun walking through a theater alone, you can't be blamed for jumping to conclusions. Who hasn't thought about the Aurora shootings when they sat in a movie theater, or flinched when someone entered the theater after the lights were down?
Asked by the local news if he had any regrets, Wilkins responded, "No, my job is to entertain people."
Staff Writer at CinemaBlend
Your Daily Blend of Entertainment News
Thank you for signing up to CinemaBlend. You will receive a verification email shortly.
There was a problem. Please refresh the page and try again.