A Would-Be Wonder Woman Joins Mad Max: Fury Road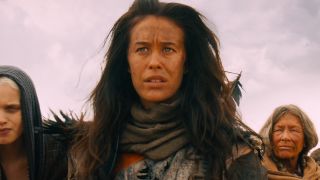 (Image credit: Warner Bros.)
After many years of promises and delays, and what seemed like a widespread assumption that it would never happen, George Miller is finally returning to the post-apocalyptic world of Mad Max with Fury Road, which is set to star Tom Hardy and Charlize Theron among a bunch of other up-and-comers. You may remember that Miller cast Hardy to play Max back in 2009, when we were still referring to him as "Star Trek veteran" and hadn't seen what he could do in Inception or The Dark Knight Rises. So Miller clearly has a knack for casting emerging talent, which is why we ought t pay attention to the latest name he's brought on board.
According to Moviehole, Miller has turned to fellow Australian Megan Gale to fill in a role on the film, which actually started production in Namibia last month. They're not revealing which role Gale will play, but you might be more interested in another role she was supposed to play for Miller long ago. Back when Miller was responsible for developing a Justice League movie for Warner Bros., he had tapped Gale to play that movie's Wonder Woman, putting her alongside Adam Brody and Common in the unlikely band of superheroes that was apparently never meant to be.
Her role in Fury Road is unlikely to be as big as Wonder Woman would have been-- after all, production started a month ago-- but it's good to see Miller standing by an actress he was ready to give her big break. In addition to Hardy and Theron, the cast includes Magic Mike's Riley Keough, X-Men: First Class's Nicholas Hoult and Zoe Kravitz Transformers: Dark of the Moon's Rosie Huntington-Whiteley (like Gale, also a former supermodel), and bodybuilder Na than Jones. Yup, those are a lot of very attractive people who are going to be running around in the post-apocaylptic desert-- so even if Fury Road doesn't live up to the standard set by the original Mad Max films, it'll be good to look at all the same.
Your Daily Blend of Entertainment News
Staff Writer at CinemaBlend