Wow, Miles Teller Really Hated Working on Divergent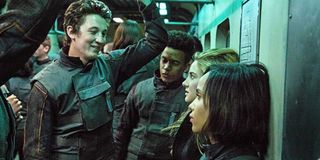 When it opened last spring, Divergent did well with audiences, earning $150 million domestic and $288 million worldwide. But the Shailene Woodley-fronted action-adventure earned largely scorn from critics. And yet it turns out critics that called the teen drama "bland," "banal," and "bloated," hated the movie less than one of its stars.
Miles Teller played the villainous Peter in Divergent, but it wasn't a role that he found very worthwhile. Talking to W Magazine about his upcoming drama Whiplash, Teller was frank about his feelings for the big-budget YA adaptation, saying of the time during Divergent's production:
Based on the popular Veronica Roth novels, Divergent was another dystopian YA actioner that earned a green light off of the success of The Hunger Games. It's set in a world where people are divided into factions based on their dominant virtue. But this society's rigid rules are challenged by a teen girl who refuses to conform. Rebellion ensues. It's a cliché, and one that many critics were bored by. So too--it seems--was Miles Teller.
It's pretty common that a star--especially one as young as Teller--will speak out against a movie they essentially took for mainstream exposure or a paycheck. However, Teller's talking smack on Divergent is awkward because the That Awkward Moment star will reprise the role of Peter in its recently wrapped sequel Insurgent, which will open on March 20th, 2015. Go ahead and guess what question will dominate Teller's portion of the press days for the Divergent sequel.
But that's 2015. Let's focus on what lies immediately ahead of Miles Teller. In Whiplash, Teller plays a determined drummer who must give his all when he enters a challenging music conservatory. The film made its world debut at Sundance last January, and instantly became one of the most talked about entries at the fest. Soon it will play at the New York Film Festival, before opening in limited release on October 10th. And this is a movie that of which Teller is very proud. "This is the first movie where I shut myself off from the world," He told W. "It was, by far, the hardest thing I've ever done."
While it might be a bad move to publically criticize a franchise you're still a part of, Miles Teller doesn't have to sweat it too much. To be frank, he doesn't need Insurgent's help to make him a star. Actually, this sequel will play as precursor to Teller's biggest movie yet, The Fantastic Four. In this Marvel reboot he'll play the iconic superhero Reed "Mr. Fantastic" Richards opposite Kate Mara, Jamie Bell and Michael B. Jordan.
The Fantastic Four will hit theaters on August 7th, 2015. In the meantime, we'll be keeping an eye on Teller.
Your Daily Blend of Entertainment News
Staff writer at CinemaBlend.