Wreck-It Ralph Footage From D23 Features 8-Bit Action, Plenty Of Cameos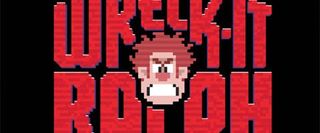 Video games and movies haven't exactly meshed well in the past. Of the games adapted in previous years, only one has ever crossed the $100 million mark at the domestic box office and there has yet to be a single one that has gotten a 50% or higher on Rotten Tomatoes (the highest is Final Fantasy: The Spirits Within with 44%). Conversely, movies with video game elements, such as Scott Pilgrim vs. The World, Wargames and Tron have found success, and Disney hopes to be part of that latter category with their new CG-animated film Wreck-It Ralph.
Yesterday, as part of the "Inside The Walt Disney Studios" presentation, director Rich Moore talked a bit about the plot of the movie and gave a few details about how everything works and who the characters are. The movie centers on a character named Wreck-It Ralph, who is a building-smashing bad guy from an 8-bit game "Fix It Felix Jr." Desperate to become a hero, he decides to leave the 8-bit world and find a different video game universe where he can be the protagonist. He does this by going to game central station (which, to us, just looks like a simple power strip). Ralph uses these to travel from game-to-game around the arcade.
One of the games that Ralph enters is called "Hero's Duty," which is an alien shooting game that looks suspiciously like Halo. This is where Sergeant Calhoun (voice by Jane Lynch) lives, an aggressive leader who is trying to defend her world from an invasion. Another world that Ralph enters is the Mario Kart-esque Sugar Rush. It's a car racing game in a land of desserts, and Ralph at first finds that there's nothing really there for him in his quest to become a hero, but it turns out that Sugar Rush holds a dangerous secret that could end the arcade. It's in this game that Ralph meets Vanellope von Schweetz, an adorable little girl character who is voiced by Sarah Silverman. Moore also promised that the game would feature many real videogame characters that we know and love making cameos in the film. As part of the presentation they also showed off the first four minutes of the film, which was a mix of both completed animation (mostly the 8-bit scenes) and concept art.
The footage begins with a scene straight out of an 8-bit videogame. A voice-over begins from Ralph himself (the voice of John C. Reilly). He talks about how the world of videogames are filled with good guys and bad guys, and considering he can't walk down a street without causing structural damage he is definitely the bad guy. The good guy is the game's titular character: Fix it Felix Jr. (voice of Jack McBrayer). In the game we see Ralph stomp onto the screen and jump onto a brick building. As he makes his way up to the roof he smashes the sides and windows. Out of the corner comes Felix who says, "I can fix it!" As Felix makes his way up the building quickly fixing the damage, Ralph comments that he could do just as good a job if he had a magic hammer that he got from his father. At the end of the level Felix is giving a medal, and Ralph laments that there are no medals for the sweet source of wreckage. As people crowd around Felix congratulating him, Ralph falls off the building and lands face-first into a pile of mud.
The camera then pulls out of the video game world and we see a title card that reads "1983." Though it's still in concept art, the camera goes back further and further as time passes, leaving the arcades as part of history. Ralph talks about how he misses characters like those from Asteroids and Centipede, who he hasn't seen in years. A title card comes up reading "Today" and Ralph says, "You have to do your job even when people don't like you for doing it." We then cut back to a non-8-bit animated Felix who is being carried into the building we saw him fix and is treated like a hero. Ralph is forced to go to the dump, which is where he lives (referred to by Ralph as "the lonely island of despair on the outskirts of humanity." He says that it looks uncomfortable, but that it's actually fine, as he pulls up a chimney to rest against and covers himself with garbage as a blanket. From his spot in the dump Ralph can see right into Felix's apartment, which is filled with people as he tells them stories and everyone laughs. Ralph says that he really wants to be the good guy.
The scene cuts and we discover that the voice-over we've been hearing is actually from a group therapy session that Ralph is attending with some other famous video game bad guys. One of the members of the group calls out to Ralph saying, "You're nothing but a two-bit thug!" Ralph responds,"That's where you're wrong. I'm 8-Bit!" One of the ghosts from Pac Man, who is moderating the circle chat, says that he needs to take it one game at a time. After Ralph sits down another villain, named Tigor (not sure if this is an original character or not), stands up. He talks about how just the other day he had ripped off someone's leg and then proceeded to beat the them with their own leg. Tigor then says without him there wouldn't be anybody to rip of someone's leg and beat them with it. He says, "You bad guy, but not bad guy." A zombie then perks up and talks about the dangers of labels and how hard they are to change. Sitting next to him, Kano from Mortal Kombat reaches in and pulls out the zombie's heart, saying, "Can't change that!"
Finally, the Pac Man ghost has everyone stand up and recite the meditation: "I'm bad and that's good. I'll never be good and that's not bad. There's nobody else I'd rather be than me."
NJ native who calls LA home; lives in a Dreamatorium. A decade-plus CinemaBlend veteran; endlessly enthusiastic about the career he's dreamt of since seventh grade.
Your Daily Blend of Entertainment News
Thank you for signing up to CinemaBlend. You will receive a verification email shortly.
There was a problem. Please refresh the page and try again.