Jumanji And 6 More Awesome Movies About Video Games (But Not Based On Them)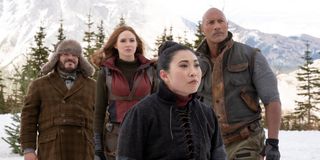 While the history of movies based on video games is notoriously bleak (fortunately starting to get some respectability with recent releases like Rampage, Detective Pikachu, and The Angry Birds Movie 2), the same cannot really be said about movies that feature video games at the center of their plots. Though there aren't exactly a ton of films that fit this description, a number of them are actually quite entertaining and enjoyable.
The count of films in this arena is increasing this weekend with the forthcoming release of Jake Kasdan's Jumanji: The Next Level, so to celebrate the feature, we've decided to take a look back and highlight some of the best examples in cinema history. And in the spirit of the new blockbuster, let's start with an obvious one…
Jumanji: Welcome To The Jungle
Years after producing one of the best board game movies ever, the Jumanji franchise returned in amazing fashion in 2017 delivering as one of the best video game movies ever. Almost everything about the original premise was changed, as instead of elements of the jungle being brought into suburban world, suburban characters were brought into the jungle, but director Jake Kasden made smart use of this altered approach, and delivered one of the best modern ensemble comedies with Jumanji: Welcome To The Jungle. Not only does it put together a truly fantastic cast, but it also makes clever use of familiar video game tropes unlike anything seen before it.
Tron
Visual effects were still very much in their infancy in the early 1980s, but that just makes Steven Lisberger's Tron that much easier to reflect on as a boundary-pushing piece of legendary cinema. It's true that the movie is a tad on the slow side narratively, but it remains an engaging and flashy watch, following software engineer Kevin Flynn (Jeff Bridges) as he is accidentally uploaded to the mainframe of his company and must work to escape with the help of Tron (Bruce Boxleitner), a program he built to protect the system. It's a film that is easy to marvel at as a piece of science-fiction history, and also produced what can be called an underrated sequel in 2010's Tron Legacy.
Wreck-It Ralph
With movies like Zootopia, Inside Out, and Coco, and Onward, Walt Disney Pictures Animation and Pixar have been on an interesting world-building kick in the last decade, and it all started with the extreme awesomeness of Rich Moore's Wreck-It Ralph back in 2012. The incredibly inventive minds at WDAS got to thinking about the idea of communal life behind-the-scenes of cabinet games in arcades, and what sprung from that concept is a stellar, beautiful, and emotional piece of art. The world of video games is explored in intrepid and hilarious ways, and seven years later it remains one of the great Disney movies of the modern era.
WarGames
Many of the films on this list involve things going wrong with video games in spectacular and fantastical ways, but John Badham's WarGames is of a different breed in that it's a bit more grounded in reality while also being a science fiction movie. Given the advancements we've seen in technology in the 36 years since the thriller was released, it may seem kind of silly for the plot to center on a video game that serves as a backdoor into a weapon system that can start World War III, but it remains a cool viewing experience for its fun performances (most notably from leads Matthew Broderick and Ally Sheedy) and interesting look at the mentality of the Cold War era. You can laugh at certain parts, but still seriously enjoy it.
The Last Starfighter
The plot of Nick Castle's The Last Starfighter is basically a theoretical ultimate clapback to anyone who has ever suggested that playing video games won't get you anywhere in life. And it still holds up as a fun video game-centric adventure 35 years after its release. It's a ridiculous yet awesome premise to suggest that a particular game is a training device to help put an end to a galactic war, and the film is not only charming, but also features some seriously impressive science-fiction design work, including the alien characters, the various spaceships, and the amazing production design.
Grandma's Boy
Being a true blue stoner comedy, Nicholaus Goossen's Grandma's Boy is a movie that you really need to be on board with before clicking play. That being said, if you are game to be amused, and in the right mind space, you too can become a part of this cult comedy's following. It centers on a game designer (Allen Covert) whose life falls apart and is forced to move in with his grandmother and her two roommates (Doris Roberts, Shirley Jones, and Shirley Knight), and between his home and work life, there are all matters of strange, and regularly gross shenanigans. You can call it a guilty pleasure, but we prefer to think of it as an awesome video game movie.
eXistenZ
David Cronenberg is the true master of body horror, and in 1999 he turned his attention towards the world of video games, creating a movie that no other filmmaker could make. Starring Jennifer Jason Leigh and Jude Law, eXistenZ is a surreal vision that makes both its characters and the audience question the nature of reality, all while operating what is unquestionably the most disgusting controller of all time. There is a degree to which the movie has become dated, primarily because of real world advancements in the field of virtual reality, but it remains a cool auteur vision and definitely one of the coolest features made about video games.
What's your favorite movie about video games that's not actually based on video games? Is it one of the titles that we've mentioned here, or is it one that we may have missed? Hit the comments section below to highlight all of your picks, check out Jumanji: The Next Level when it hits theaters this Friday, December 13th, and stay tuned to CinemaBlend as we close out 2020 strong with our regular stream of news and features.
Your Daily Blend of Entertainment News
Assistant Managing Editor
NJ native who calls LA home and lives in a Dreamatorium. A decade-plus CinemaBlend veteran who is endlessly enthusiastic about the career he's dreamt of since seventh grade.