Mindy Kaling: What To Watch On Netflix And Elsewhere If You Love Mindy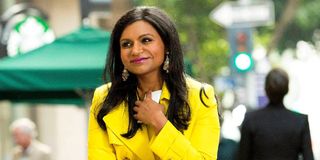 Mindy Kaling can do just about anything: acting, writing, producing, directing, and much more. She carved out her place in Hollywood when she appeared on The Office as Kelly Kapur. Kelly's obsession with pop culture, her witty lines, and entertaining romance with Ryan (B.J Novak) helped make her one of the most memorable characters on the series. Now Kaling is once again bringing funny, relevant, and unforgettable characters to life with her new series Never Have I Ever.
The series is a fresh coming-of-age romantic comedy series that showcases Mindy Kaling's brilliant comedic voice. If you're a fan of The Mindy Project star, then this is a series you need to watch for smart writing and likable characters. Also if you're a Mindy Kaling fan, Netflix, Hulu, and Disney+ have plenty of options to start your Kaling binge-fest.
Never Have I Ever (Netflix)
Mindy Kaling acts as creator and writer on Never Have I Ever, a Netflix original series. It follows Devi (Maitreyi Ramakrishnan) as she deals with a tragic loss, and typical teen angst, like parents, crushes, and having John McEnroe as a personal narrator. The series debuted in April 2020.
Never Have I Ever is a modern teen comedy with a very enjoyable and quirky main cast. Maitreyi Ramakrishnan gives Devi depth, sincerity, and humor as she and her friends tackle most of the things that modern teens struggle with, like coming to terms with sexuality, grief, how to make a great TikTok, and dealing with a nemesis that will likely become a love interest later down the line.
Stream it on Netflix here (opens in new tab).
The Mindy Project (Hulu)
Mindy Kaling created and stars in The Mindy Project. She plays Mindy Lahiri, an OB/GYN who works at a private practice and deals with various romantic entanglements. The comedy aired for six seasons, first as a Fox series and then exclusively on Hulu.
The Mindy Project premiered in 2012, and it was her first TV leading project after appearing on The Office. The cast included Chris Messina, Ed Weeks, Ike Barinholtz, and Xosha Roquemore. The Mindy Project was a great launching pad for Kaling, who had already won viewers over from her role on The Office, but this series allowed her to add her own comedic style and tone.
Stream it on Hulu here. (opens in new tab)
Inside Out (Disney+)
Inside Out is a 2015 Pixar movie directed by Peter Docter. It follows the inner-workings of young Riley (Kaitlyn Dias) as she deals with the emotions of a major move. Joy (Amy Poehler) acts as the ringleader inside Riley's mind and tries to keep everything operating as it's supposed to, but Joy is finding it difficult to keep Riley happy and stop Sadness (Phyllis Smith) from taking over.
Kaling plays Disgust in Inside Out and really captures the general attitude and persona one would expect from Disgust personified. Inside Out is a Pixar movie, and the company rarely makes bad ones, so you can expect all the brilliant animation, unique and fun storytelling, and adorable, merchandise ready characters in this film.
Stream it on Disney+ here. (opens in new tab)
The Office (Netflix)
The Office fans better watch the series on Netflix while it is still there. The Office focuses on the employees of the Scranton branch of the Dunder Mifflin Paper Company. The cast includes Kaling, Steve Carell, Rainn Wilson, John Krasinski, Jenna Fischer, and B.J Novak.
Kaling played Kelly Kapoor for most of The Office's nine season run (from 2005-2013). She also performed the duties of writer, director, and executive producer on the series. With Mindy's flare for comedy and love of pop culture, she was able to make Kelly one of the scene stealing characters with a great toxic romance with Ryan. Kelly is one of my favorite The Office characters because she's just such an entertaining character to watch, which is all credited to Kaling's comedy and acting skills.
Stream it on Netflix here. (opens in new tab)
It's Always Sunny in Philadelphia "The Gang Makes Paddy's Great Again" (Hulu)
Mindy Kaling appeared on the season 13 premiere as a character named Cindy who has now become a member of the gang. Dennis (Glenn Howerton) left the gang to take care of his child. With Cindy, the gang actually excels at their schemes, a new and unusual thing for them.
If you know the gang, then you know an ethnically diverse woman running the gang is totally out of character, and Mindy's character Cindy feels completely out of place among these lovable trash people, and that's kind of the point. Kaling doesn't feel right on It's Always Sunny in Philadelphia because her persona is way too normal and civilized for the gang.
Stream it on Hulu here. (opens in new tab)
Wreck-It Ralph (Disney+)
Two misfit arcade game characters, Wreck-It Ralph (John C. Reilly) and Vanellope von Schweetz (Sarah Silverman) form a bond and vow to help each other. Wreck-it Ralph is treated as a villain in his game, Fix-It Felix Jr., and Vanellope glitches, so she's not allowed to race in her game, Sugar Rush. Wreck-It Ralph was released in 2012 and directed by Rich Moore.
Kaling only has a small role as Taffyta Muttonfudge, one of the racers of Sugar Rush who is quite skilled, but also very mean especially to Vanellope. She's one of the best racers in Sugar Rush and the mean girl leader of the gang. Kaling creates a great antagonist with Taffyta.
Stream it on Disney+ here (opens in new tab).
Champions (Netflix)
Mindy Kaling created and had a recurring role on Champions. The series followed Vince (Anders Holm) as he has to learn to take care of his fifteen year old son Michael (Josie Totah). Fortune Feimster and Andy Favreau also star.
This series only ran for ten episodes before being swiftly cancelled by NBC. I always thought Kaling and Anders Holm had great on-screen chemistry when he played one of her boyfriends on The Mindy Project, so I was very excited to see them work together on Champions. Unfortunately, the series got cancelled before it found its rhythm. But for Kaling fans, Champions is a fun, quick watch.
Stream it on Netflix here (opens in new tab).
Four Weddings and A Funeral (Hulu)
Based on the movie of the same name Four Wedding and a Funeral follows a group of college friends now in their thirties as they deal with their complicated relationship with each other, and various people in their lives. The main romance of Four Weddings and a Funeral revolves around Maya (Nathalie Emmanuel ) and Kash (Nikesh Patel) as they try to ignore their growing feelings for each other.
Mindy Kaling is great at creating romantic comedies, and this is no exception. Kash and Maya, and their whole group of friends are appealing characters that make you want them to figure it all out. Besides the characters and storyline, another big strength of Four Weddings and a Funeral is the music choices. It had a very good Season 1 soundtrack.
Stream it on Hulu here (opens in new tab).
A Wrinkle in Time (Disney+)
In 2018, Ava DuVernay directed Disney's latest adaptation of A Wrinkle in Time. The film follows Meg (Storm Reid), her brother Charles Wallace (Deric McCabe), and her friend Calvin (Levi Miller) as they travel through planets looking for her father played by Chris Pine.
Mindy Kaling plays Mrs. Who, who along with Mrs. Which (Oprah Winfrey) and Mrs. Whatsis (Reese Witherspoon) guide the three children on their quest. Mrs. Who is known for using random quotes to offer advice and give wisdom to people.
Stream it on Disney+ here (opens in new tab).
Late Night (Amazon Prime)
Emma Thompson and Mindy Kaling star in Late Night.Kaling also wrote the screenplay to this film. The 2019 dramedy was directed by Nisha Ganatra and focuses on Katherine Newbury (Emma Thompson), a late night host on the brink of losing her show, and Molly Patel (Mindy Kaling), the new writer. Both women work to prove themselves, Katherine to her audience and network ready to turn her off, and Molly to Katherine and an all male writer's room.
Thompson and Kaling both give great performances as opposite personalities who need each other to grow, succeed, and find their way. Late Night is a funny, charming, and insightful movie about finding how to stay true to yourself while altering your voice to match a changing landscape.
Stream it on Amazon Prime here (opens in new tab).
Despicable Me (Netflix)
Despicable Me is an animated film starring Steve Carell, Jason Segel, Russell Brand, and Kristen Wiig. It was released in 2010 and directed by Pierre Coffin. The film follows super villain Gru (Steve Carell) as he adopts three girls (Miranda Cosgrove, Dana Gaier, and Elsie Fisher).
Kaling has a blink and you might miss it appearance in the opening of Despicable Me. She voices Justin's mom, a mother whose rambunctious son falls into an inflatable pyramid. This isn't a major role for Mindy Kaling, but it's just an overall great animated film if you feel like adding something else to your watchlist.
Stream it on Netflix here. (opens in new tab)
No Strings Attached (Hulu)
Remember 2011 when both No Strings Attached and Friends with Benefits came out? The films basically follow the same premise: friends who decide just to have detached sex, only to fall for each other. No Strings Attached is the one directed by Ivan Reitman and stars Natalie Portman and Ashton Kutcher.
Mindy Kaling has a very small role as one of Natalie Portman's character's friends. Her best scene is alongside Greta Gerwig, Guy Branum, and Ashton Kutcher as they trick Kutcher's character into being confused who he had sex with. The answer: no one.
Stream it on Hulu here (opens in new tab).
It's a great time to be a Mindy Kaling fan with plenty of options available on your favorite streaming site. With Never Have I Ever being so great, we can't wait to see her future projects.
Your Daily Blend of Entertainment News
Spent most of my life in various parts of Illinois, including attending college in Evanston. I have been a life long lover of pop culture, especially television, turned that passion into writing about all things entertainment related. When I'm not writing about pop culture, I can be found channeling Gordon Ramsay by kicking people out the kitchen.