New Writer Brought On For Warner Bros. Man From U.N.C.L.E. Movie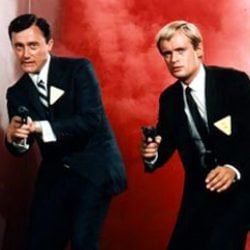 Hopefully you won't be shocked when I admit that Man From U.N.C.LE. was before my time. The TV spy show aired from 1964 to 1968, and featured Robert Vaughn and David McCallum as an American-Russian pair of international agents, teaming up to fight a force even more evil than the USSR: T.H.R.U.S.H., basically a collection of leftover Nazis bent on world domination.
Yes, there's a lot of Cold War stuff to parse through in there, and it's unclear how the show will be updated for modern audiences, but by golly is Warner Bros. going to try. THR reports that Max Borenstein has been hired as the latest writer to tackle the film's script, which will be directed by Wedding Crashers helmer David Dobkin if it ever gets finished. It should not surprise you to learn that Warner Bros. is also the studio that brought you Get Smart, and even though they seem to have stalled in making a sequel to that relatively successful 60s series reboot, Man from U.N.C.L.E. is still somehow looking like a good bet. Not to diminish Borenstein or the fine work he's doubtlessly already doing on the script, but I'm still wondering about the viability of this thing ever getting off the ground.
Your Daily Blend of Entertainment News
Staff Writer at CinemaBlend