X-Men: Apocalypse Shows Off Massive Egyptian Sets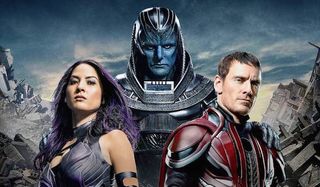 Just like in the comics, next year's X-Men film villain, Apocalypse, hails from Egypt, where he was considered to be the first mutant over 5,000 years ago. Rather than green screen this environment, the X-Men: Apocalypse crew hunkered down and built Egyptian sets from scratch, and you can see just how massive they are in the picture below.
Dirctor Bryan Singer posted this Instagram photo of himself standing in the 2016's blockbuster's mamoth set and peering up at a statue of Anubis, the Egyptian god of the afterlife. Although Singer didn't provide any additional information for this picture (other than that it reminds him of Raiders of the Lost Ark), concept art from earlier in the month showed Apocalypse's tomb being broken into, so presumably this is the eponymous villain's resting place. As the director's hashtag #notallgreenscreen notes, much of X-Men: Apocalypse has been shot using more practical methods, whether it's offsite filming at a mall and forest, or building a frantically shaking "motion base."
Moviegoers first saw the young Apocalypse using his telekinetic powers to build the pyramids in the X-Men: Days of Future Past post-credits scene as a crowd of worshippers chanted his original name: En Sabah Nur. Although we know he is one of the first cases of Homo Superior, people from that time period understandably thought he was a god, a belief that he still carries about himself. Another piece of concept art from earlier in the year showed a silhouetted figure looking at what looked like an extraterrestrial spacecraft. Considering that a young En Sabah Nur found an abandoned alien ship in the comics, which is where he got much of his advanced technology, this could mean we'll see flashbacks to his time in ancient Egypt during the film.
After resting for millennia, Apocalypse awakens in 1983, and, after being disappointed by how chaotic and violent the world is, he gathers followers to his cause (including Magneto, Psylocke, Storm, and Angel) to help him remake society in his own image. His goal: to create a world where the strong thrive and the weak are cast aside, regardless of if they're human or mutant. It will be up to the X-Men, both young and old, to stop their fellow mutants from ushering in the Age of Apocalypse…though don't expect any alternate universe shenanigans like the comic book of the same name.
X-Men: Apocalypse hits theaters on May 27, 2016.
Connoisseur of Marvel, DC, Star Wars, John Wick, MonsterVerse and Doctor Who lore. He's aware he looks like Harry Potter and Clark Kent.
Your Daily Blend of Entertainment News
Thank you for signing up to CinemaBlend. You will receive a verification email shortly.
There was a problem. Please refresh the page and try again.