How Cyclops Will Be Portrayed In X-Men: Apocalypse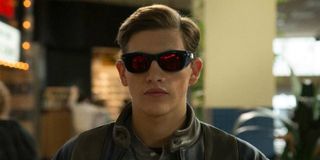 Thanks to Entertainment Weekly's latest issue, we got our first in-depth look at X-Men: Apocalypse and all the newer, younger mutants that come with it. While this film will act as a conclusion to the previous two installments, it will also see an origin for some the more famous characters of the X-Men universe. Tye Sheridan, the young actor who plays Cyclops, recently spoke about this version of Scott Summers and where we'll first find him.
During an interview with Indiewire about Sheridan's latest film, The Stanford Prison Experiment, he explained,
It's a different Cyclops than James Marsden's iteration in X-Men, X2 and The Last Stand. That man was a leader who felt responsible for his team, which is the opposite of where we pick up with him in Apocalypse. In the EW issue, we also discovered that he's a bad boy, so expect some shenanigans to come. Then there's also Havok to consider. This is the first time we're seeing Cyclop's brother, played by Lucas Till, in a film with his laser-eyed sibling, a dynamic that'll be interesting to see play out.
Sheridan, who made a name for himself in the indie circuit, hasn't been featured in this capacity in a blockbuster, and his fellow generation of mutants is in a similar boat. Sophie Turner became famous for playing Sansa Stark on Game of Thrones, but Jean Grey is her first foray with a major franchise. Then there's newcomer Lana Condor as Jubilee, Ben Hardy as Angel, and Alexandra Shipp from Lifetime's Aaliyah biopic playing Storm. The only real exception is our new Nightcrawler, Kodi Smit-McPhee, who was seen last year in Dawn of the Planet of the Apes and, before that, in The Road.
Bryan Singer continues filming X-Men: Apocalypse, which is currently set for release on May 27, 2016. These younger stars are joined by vets Jennifer Lawrence, Michael Fassbender, James McAvoy and Nicholas Hoult, as well as Olivia Munn, Oscar Isaac, Evan Peters, Rose Byrne and Josh Helman. It's unclear who else might pop up (ahem, Hugh Jackman), but Patrick Stewart was also spotted on set alongside Singer. We were on the set in Montreal to check out all the action, so stay tuned for a full report.
Your Daily Blend of Entertainment News
Thank you for signing up to CinemaBlend. You will receive a verification email shortly.
There was a problem. Please refresh the page and try again.