The X-Men: Apocalypse Trailer, Done With Legos, Is More Badass Than You'd Imagine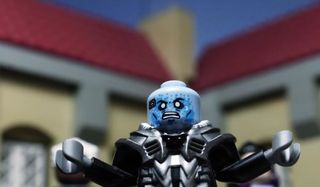 Two years ago The Lego Movie hit theaters and completely changed the way we view our favorite interlocking brick toys. No longer just a way to build static structures, that movie proved that Legos could act as an amazing platform for animation. With a camera, some bricks, and just a little know-how, an average person can expertly recreate some of the coolest blockbusters in recent memory. One astute animator just recreated the trailer for the upcoming X-Men: Apocalypse, and it's seriously amazing. Check it out below.
Utilizing the same stop-motion style of animation that made The Lego Movie so endearing, the above trailer recreates the preview for X-Men: Apocalypse with incredible accuracy. Everything from the X-Men outfits to the depiction of each mutant's unique powers looks well animated and faithful to the way everything appears in the movies. One of the coolest moments – one that had to be incredibly difficult to animate – is the recreation of the badass shot where Olivia Munn's Psylocke cuts through a car in midair and flips safely to the ground.
Of course, it took more than just some Legos to make this trailer work. There's clearly some added visual digital effects here and there to make the scenes depicted seem more epic and faithful to the source material. That being said, what the animator of this trailer managed to do almost exclusively with Lego bricks is something to marvel at – pun wholeheartedly intended.
As technology continues to advance the way that it has, we fully expect more and more movies to start coming out that mimic this very style. In fact, with the highly anticipated release of The Lego Batman Movie by Warner Bros. we wouldn't even be the slightest bit surprised if a brand new genre of Lego superhero movies started to pop up in the very near future. Make it happen, Hollywood; we're begging you.
Feel free to check out the actual trailer for X-Men: Apocalypse below; comparing them side by side will show how truly impressive this recreation is:
What do you think of this Lego trailer? Do you think it faithfully captures the spirit of Bryan Singer's X-Men: Apocalypse? We will just have to wait and see when the upcoming mutant showdown blasts its way into theaters on May 27. Now if you'll excuse me, I'm going to go play with some of my old Legos.
Your Daily Blend of Entertainment News
Originally from Connecticut, Conner grew up in San Diego and graduated from Chapman University in 2014. He now lives in Los Angeles working in and around the entertainment industry and can mostly be found binging horror movies and chugging coffee.
Your Daily Blend of Entertainment News
Thank you for signing up to CinemaBlend. You will receive a verification email shortly.
There was a problem. Please refresh the page and try again.