X-Men: Days Of Future Past Cuts All Mentions Of Scarlet Witch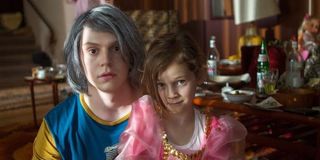 Every week seems to bring new news about mutants showing up, or being cut out of, Bryan Singer's X-Men: Days Of Future Past. The seventh mutant mash-up is becoming a revolving door, and now there's news that there might be evidence of further mutant shenanigans. We speculated about the presence of Scarlet Witch, but is it possible the X-sequel will be featuring the third of Magneto's brood of children?
Bryan Singer spoke to Empire (via Comic Book) about the identity of the small girl seen in the clips (and the above photo) thus far, and revealed that even if she's dressed like a little gypsy girl, she's not the Scarlet Witch at all. Singer said:
Okay, so, lots of nerdy things to unpack here. She's likely Polaris, aka Lorna Dane, the alleged third Maximoff sibling. Like her father, Polaris has the power of magnetism. However, she quickly jumped to the side of the angels in the comics, working with X-Factor for an extended period of time. She's been a pivotal character in the X-mythology for awhile, so its possible she could be all grown up in X-Men: Apocalypse. The next film might even utilize the characters' long-standing relationship with Havok, played in X-Men: Days Of Future Past by Lucas Till.
Of course, maybe Bryan Singer doesn't really care about being true to comic book mythology, because it's not really germane to the plot. It seems that the bigger deal here would be Singer mentioning a mother, which would be a character Michael Fassbender's Magneto once seduced. The fact that this isn't too significant suggests that Quicksilver might not actually be Magneto's son. Of course, floating the question of parentage and just letting it hang over the air as Quicksilver saves Magneto from a high security prison is material ripe for drama.
Basically, it's Singer's prerogative to make that young sister into a non-character. Putting her in a Scarlet Witch-ish costume with gypsy echoes – Magneto's first wife was a gypsy – feels like trolling, however. It's not going to affect the movie one way or another, but they are robbing themselves of a potential source of familial drama. Soap opera silliness has always been a hallmark of the X-Men universe, which is why it's so strange to see the movies abandon the hormonal instincts of the young mutants to focus on broad spectacle instead. Fans end up losing these key connections, unfortunately: X-Men: The Last Stand completely ignored that Juggernaut was Professor Xavier's step-brother, for instance. You're going to have to judge for yourself when X-Men: Days Of Future Past opens May 24th.
Your Daily Blend of Entertainment News
Thank you for signing up to CinemaBlend. You will receive a verification email shortly.
There was a problem. Please refresh the page and try again.