New X-Men: Days Of Future Past Photos Reveal Scarlet Witch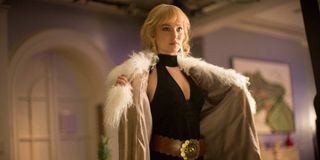 While X-Men: Days Of Future Past gears up for release, there remains a lot we don't know about the film. Given the placement of certain characters within the onscreen mythos, it's not a direct adaptation of the classic storyline. And with the impending production of X-Men: Apocalypse, we have a general idea that Days Of Future Past sets up more complications and story avenues within the X-universe. But every time a new photo is released of the massive cast, it creates further confusion and mystery as to what this blockbuster entails.
A whole passel of new photos have surfaced for the superhero sequel at Les Toiles Heroiques, some of which reveal intriguing new elements of the story. There are several new shots of Blink and Warpath, as well as old favorites Storm and Magneto. There are also a few new revelations.
This first one is the most maddening. Wolverine, Xavier and Beast are confronting a potential ally or villain, possibly in need of help. The URL suggests this is someone called "Raoul," but that doesn't seem to be anyone too familiar in the Marvel universe. Perhaps one of the many disguises of (duh duh DUH) Apocalypse?
Here, we establish that General Stryker, played by Josh Helman in this film, is essentially the Zelig of the X-Men universe. Wherever there are mutants to be vanquished, Stryker's gonna be there, ruining everything. And here he can be seen side-by-side with Peter Dinklage's Bolivar Trask, the inventor of the Sentinels, doing some inventin' and sciencin'. Keep on sciencin', Trask.
The most revealing photo is this shot here of Evan Peters' Quicksilver alongside a little girl. Who is this girl in question? According to the URL's of this French site, that is actually his sister Wanda, the girl who would become the Scarlet Witch. As you may recall, the Witch is meant to pop up in next year's Avengers: Age Of Ultron as well. So FOX beat them to the punch on two separate occasions. Oh you guys!
X-Men: Days Of Future Past will be released May 23rd. The site has multiple behind-the-scenes images, including this engaging one that shows Singer explaining to Kitty (Ellen Page) how to send Wolverine back through time. Canon shift! Be sure to watch the latest trailer for Days of Future Past below. Are you still excited for the summer blockbuster!
Your Daily Blend of Entertainment News