X-Men: Will This Rising Star Be The Next Cyclops?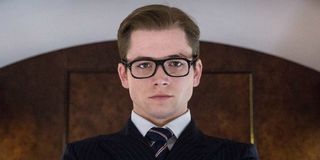 It was only a few days ago that we heard Bryan Singer and his X-Men: Apocalypse team were considering a number of young, up-and-coming actors and actresses for the roles of Cyclops, Jean Grey and Storm. Played by James Marsden, Famke Janssen and Halle Berry in the cinematic franchise since the first film, the new sequel will focus on their younger selves in another sort of alternate timeline. However, one of the actors said to be in contention, Taron Egerton, has spoken out. In doing so, he's cast some doubt.
Egerton is the handsome 23-year-old Welsh actor who'll be seen kicking some ass in a suit and tie alongside Colin Firth in Kingsman: The Secret Service. In promotion of the film, he came out for a recent special screening event, followed by a Q&A. It was during this time that he addressed his possible consideration to play young Cyclops in X-Men: Apocalypse. Via Comic Book Movie, he's quoted as saying:
Latino-Review was the one who dropped the news of Egerton going in to test for the role, and these guys have a track record when it comes to scoops on superhero-related movies and TV. When you also take into consideration Egerton's words, specifically the "I really can't comment," it does seem like he's up for the role but he doesn't want piss the wrong people off (e.g. Bryan Singer and the casting director). Otherwise, he probably would have flat-out denied the whole thing.
Other names said to be in consideration for young Cyclops are Jamie Blackley and Ty Sheridan. The former recently starred opposite Chloe Grace Moritz in the young-adult adapted If I Stay, while the latter is one of the most capable young actors working today. After his incredible performances in Mud and Joe, someone needs to give this kid a star-making vehicle stat! But, honestly, we're just happy that Cyclops is getting back in the game. We were enraged to see him bite the dust so early on in X-Men: The Last Stand, but based on what we know of Apocalypse, it seems he'll have a crucial part to play.
Elsewhere, Sophie Turner (aka Sansa from Game of Thrones) and Saoirse Ronan of Golden Globe winner The Grand Budapest Hotel are reportedly testing for Cyclops' love interest, Jean Grey. Alexandra Shipp, who was on the sinking ship that was Lifetime's Aaliyah movie, and the virtually unknown Zendaya Coleman are up for Storm. We've still got plenty of time before X-Men: Apocalypse drops into theaters on May 27, 2016, but hopefully we'll be hearing sooner than later as to the new mutant additions. After all, James Marsden already has his pick.
Your Daily Blend of Entertainment News
Thank you for signing up to CinemaBlend. You will receive a verification email shortly.
There was a problem. Please refresh the page and try again.