X-Men Star Nicholas Hoult's Big Problem With Superhero Movies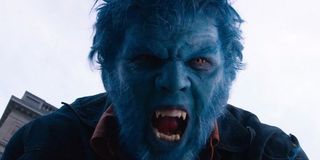 Since 2011's X-Men: First Class, Nicholas Hoult has been a Beast of the Marvel Comics variety. Yet despite his role in one of the biggest comic book franchises on the market, he's admitted that at times he's a bit cold to the genre for one big reason: it tends to follow the formula too often.
While in an interview with NME, in order to promote his role in the film Kill Your Friends, Hoult addressed the four paneled elephant in the room that we all know exists when it comes to most comic franchises. His exact qualm with the current superhero template is summarized as follows:
That "bankable formula" is something that we've all come to know and loathe, unless something substantial enough is done to make it palatable again. Mild mannered person is exposed to extraordinary circumstances, person becomes not so mild mannered, and a superhero is born through a montage of some sorts – only to overcome adversity and win the right to a sequel. It's the same story that we're constantly told, except with brand new heroes in the shoes of the origin story. It's also a good reason why films like The Amazing Spider-Man don't do well at all.
If we know that a hero is going to succeed, be it due to being overly familiar with their story, or even if we have a good feeling we know what's coming, it stops being interesting. Nicholas Hoult knows this because, as he points out later on in his interview that the reason he excludes the X-Men films from the list of formulaic comic films is because their characters are unpredictable. You can know the fact that Professor X and Magneto are on opposite sides of the same coin, but at the same time the interplay between the two characters is so mixed with feelings of both brotherly love and hate, you never truly know where their story is going.
Despite their title as the next step in evolution, the X-Men series is probably the most human comic book franchise in the big leagues today. As opposed to focusing solely on how its heroes got their powers, it focuses on their constant struggle for acceptance. Indeed, the X-Men series is more at home being a story about social change than how big or bad the villains can get. Though don't be mistaken about their intent in that department either, as X-Men: Apocalypse is promising even more carnage and destruction than the already debris laden X-Men: Days Of Future Past. The only difference is, the X-Men saga doesn't lose sight of its characters when they do it.
Nicholas Hoult is wise to raise this concern at this late hour, as the X-Men franchise is looking at its final installment – at least, for its current iteration. Like it or not, Bryan Singer's stewardship over most of the franchise's life-cycle has kept the human factor in the storytelling machine for everyone's favorite mutants. When that's gone, someone else is going to have to pick up the torch, otherwise the audience, as well as Hoult, will be exposed to an onslaught of spectacle and fluff the likes of which the genre may not easily recover from.
You can see Nicholas Hoult in Kill Your Friends as of tomorrow, but only if you're in the U.K. If you're in the US, there's no release date set just yet, so you'll have to sit tight with your copy of Mad Max: Fury Road - available now on Blu Ray, DVD, and Digital HD.
Your Daily Blend of Entertainment News
Senior Movies Contributor
CinemaBlend's James Bond (expert). Also versed in Large Scale Aggressors, time travel, and Guillermo del Toro. He fights for The User.
Your Daily Blend of Entertainment News
Thank you for signing up to CinemaBlend. You will receive a verification email shortly.
There was a problem. Please refresh the page and try again.