Are You A Kung Fu Panda Fan? We Have Some Bad News For You.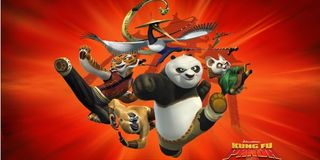 Whether we liked it or not, 2014 became the year of staking your claim to release dates way ahead of time. Considering both Marvel and DC staked out a lot of prime real estate for their franchise efforts, there's been a more limited amount of breathing room for major studios without superhero projects. One studio that hasn't had the best of luck with release dates is Dreamworks Animation, which has recently dealt with two other release date moves, and now is looking into a third one. It pains us to say this, but you Kung Fu Panda fans are going to have to wait a little longer for Po's next big adventure.
Variety announced that Kung Fu Panda 3's original release date of December 23, 2015 is going to be replaced by a supposedly cozier March 18, 2016 spot. The reasoning behind this change has not been made official, but if you're wide awake you can understand just what has caused the move. After all, Star Wars: The Force Awakens is currently scheduled to come out on December 17th.
This isn't the first time Dreamworks Animation has shuffled the deck in recent months in an attempt to bring some financial stability home. After all, this fall's The Penguins Of Madagascar was shifted from its March 27, 2015 date to save the studio's new film, Home - which will now come out in March - from completely tanking against The Hunger Games: Mockingjay Part I last month. The gambit seems to have worked for the most part, as the Dreamworks Pictures has shown some solid numbers in the past couple of weeks. However, for a film with a pedigree in another successful franchise, the performance thus far has been rather disappointing.
Naturally, Kung Fu Panda 3 is going to have a lot of pressure to perform at the box office, as will Home and next summer's B.O.O.: Bureau Of Otherworldly Operations. But even that last film, which is currently set for a June 5, 2015 release date, is rumored to be looking for another weekend. Its current date is not only a tremendously busy time, but it's also in close proximity to Disney/Pixar's Inside Out - which is pretty much a sign that the film needs to either open strong in the weeks before the Pixar flick, or pick a less pressured date altogether.
For a studio that's come a long way from the content they used to specialize in, Dreamworks Animation is having a rough time at the races this year. Maybe luck will be on their side, and Kung Fu Panda 3 will be anticipated enough that it'll be a smash hit upon arrival. Or, at the very least, it'll use the precious week and a half it has before Batman v. Superman: Dawn Of Justice's release date and make a decent chunk of change before becoming a counter-programming option for younger audiences.
CinemaBlend's James Bond (expert). Also versed in Large Scale Aggressors, time travel, and Guillermo del Toro. He fights for The User.
Your Daily Blend of Entertainment News
Thank you for signing up to CinemaBlend. You will receive a verification email shortly.
There was a problem. Please refresh the page and try again.