You Won't Believe How Much Money Kevin Hart Is Paid To Tweet Things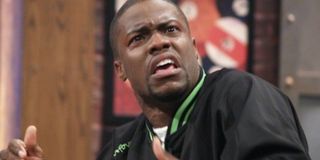 In case you haven't noticed, Kevin Hart has become a rather influential guy. In addition to being one of the most popular stand-up comedians in the world, he is also starting to expand his career as a comedic leading man. When he acts, people respond – which goes a long way in explaining why he was recently paid $2 million to Tweet about two movies that were released this past fall.
In addition to his success as a stand-up and movie star, Kevin Hart is something of a social media dynamo. The comedian has 14.8 million Twitter followers, and in the past few months Sony made a move to take advantage by sponsoring his messaging. As part of the recent Sony Hack, The Daily Mail got ahold of an email from producer Clint Culpepper that says that Hart was paid $2 million to Tweet about the thriller No Good Deed this past fall, and that a deal was being worked out to have him say something positive about Denzel Washington's action movie The Equalizer. The email even included suggestions of exactly what Hart could write about on his Twitter feed, suggesting the pairing of a TV spot and an enthusiastic comment.
No Good Deed, which starred Idris Elba and Taraji P. Henson, was released by Sony subsidiary Screen Gems in September, and looking through Kevin Hart's Twitter feed you can find the actor's promotional message about the film:
Weirdly, it's entirely possible that Kevin Hart may have actually contributed to the relative success of No Good Deed. While the film's $53.8 million box office was hardly record-breaking, the fact that this sum was generated from a budget of just $13.2 million means that Sony must have been pretty happy with its gross. It doesn't appear as though Kevin Hart followed Sony's request to help promote The Equalizer, though, as there doesn't appear to be a similar message about the Denzel Washington movie on his feed.
The release of these leaked emails has severely damaged the relationship between Sony and Kevin Hart. Earlier this month, the comedian released a response via his Instagram account after another hacked email from Clint Culpepper called the comedian a "whore" for asking for compensation for promoting his own films on social media. And after being asked by TMZ whether he would continue to work with Sony, Kevin Hart refused to respond. Since Kevin Hart's upcoming film The Wedding Ringer is also a movie produced through the Sony system, the promotional tour for that film should be very interesting indeed. It's probably a good thing that his team-up with Will Ferrell, Get Hard is set up over at Warner Bros.
Your Daily Blend of Entertainment News
Thank you for signing up to CinemaBlend. You will receive a verification email shortly.
There was a problem. Please refresh the page and try again.