You're Next Giveaway: Win Posters, Creepy Masks, And Horror Classics On DVD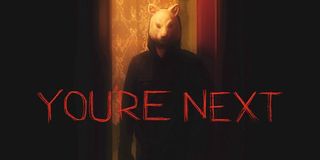 YOU'RE NEXT. It's hard to imagine any more ominous thing to hear in a dark, remote cabin, maybe one that was filled with your entire family before dinner was interrupted by some mask-wearing villains, armed to the teeth. And as a title for a horror movie, it's a good hint that the slashing and screaming you're about to see is smarter than average. You can take your Texas Chainsaw Massacre and Friday the 13th-- You're Next is horror done succinct, direct, and clever enough to keep even non-horror fans in their seats.
After debuting at the Toronto Film Festival way back in 2011 and launching one of our favorite viral campaigns of the summer, You're Next is finally coming to theaters this weekend, and we've got a prize pack to give away to anyone who's (rightly) excited to see it. One lucky reader will win everything you see listed below:
Animal Mask Posters
Final Poster
YOU'RE NEXT Animal Mask
DVD pack of 3 horror films-- Cabin in the Woods, Saw, and one surprise
You can see photos of some of the prizes in the image gallery at the bottom of this post.
How do you enter? Just click on over to our Facebook page, "Like" it if you haven't already, and then leave a comment on this contest post. Tell us your favorite horror film and we'll pick one winner and one grand prize winner at random. The contest ends at 12 am EST on Monday, August 26th. If you enter, please make sure we can contact you via Facebook. If you have it set to where we can't message you, your prize will go to somebody else.
The winner will be notified via Facebook direct message and asked to provide their mailing addresses (no P.O. boxes please, and addresses in the United States only). Prize packs will be mailed directly to the winner. No purchase necessary. Failure to comply with the rules will result in disqualification and subsequent mockery. Good luck!
Check out the trailer for You're Next below, and even if you don't win the prize, be sure to catch it in theaters on August 23.
Image 1 of 5
Your Daily Blend of Entertainment News
Staff Writer at CinemaBlend