For Your Consideration: Midnight In Paris Is The Best Picture Nominee That Gets Nostalgia Right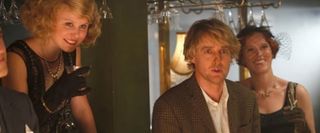 Every weekday from now until the Oscar ceremony we'll be running a For Your Consideration piece on behalf of every Best Picture nominee, arguing why it deserves its nomination or even a win, arguing why it's important, or even pointing out why it doesn't belong at the Oscars at all. Here is Jesse with a personal argument on behalf of Midnight in Paris.
To be honest, I never thought I'd be arguing for a Woody Allen film to win Best Picture. Like most people, I thought his best work was behind him, his very best made well before I was born. And even with his latest resurgence, Woody was still a long way from being a best of the year consideration. But Midnight in Paris isn't a good film, it's a great one, and it's time Woody won himself another Best Picture.
It's impeccably acted, written and directed, containing all the laughs, insight and whimsy of Woody's very best work. Forget the Screen Actors Guild, who picked The Help as their Best Ensemble-- Allen's tale of magic at midnight in the most romantic city in the world has it beat. Aside from Owen Wilson's effortlessly charming and neurotic performance as Gil (the best Woody surrogate since John Cusack), some of the more memorable turns come from Tom Hiddleston as F. Scott Fitzgerald, Kathy Bates as Gertrude Stein, Adrien Brody as Salvador Dali and finally Corey Stoll, who should have received a Best Supporting nod for his turn as Ernest Hemingway. I also love Michael Sheen as the pretentious know it all, irritating Gil in the present when he isn't lost in the past.
The script is also one of Allen's best in some time (surely his best comedy since, well, God knows when) and was just recognized as the year's Best Original Screenplay by the Writers Guild of America-- it's nice to see at least one of the Guilds get it right. Allen's writing is every bit as charming and funny as the other light-hearted Best Picture contender, The Artist, but most importantly, MiP is a smart comedy that actually has something significant to say about our collective problem with viewing the past through rose colored glasses. And in a year when the Academy has once again chosen to play it safe and leave real stand-outs off the Best Picture docket, it's high time that a smart, insightful comedy be crowned Best Picture, especially one that takes aim at, instead of embraces, our cultural obsession with nostalgia.
The Academy more often than not will reward a serviceable drama over a well-written, insightful comedy but as they finally come close to giving Best Picture to a movie with some humor, it's to one that's essentially an over-long gimmick that uses our weakness for nostalgia to win audiences over with empty charm. The Artist is a nice but insignificant retread of Singin' in the Rain, with a sentimental longing for classical Hollywood filmmaking that actually promotes an unhealthy view of the past. I can still hear people walking out of the theater, exclaiming 'boy, the just don't make films like that anymore.' With its crisp black and white photography, lovable leads, easily digestible story and an adorable pup, The Artist cheaply taps into the audiences' longing of a simpler time, the exact kind of insincere nostalgic pandering that Woody Allen's sharp comedy rightly takes to task.
Eric already made the convincing case that Hugo, not The Artist is the year's best film about cinema history, but both films are too busy painting their respective eras to look far greener than the present. Midnight in Paris, on the other hand, at first presents this nostalgic glow before slowly stripping away the shimmer to reveal what's really important: the present. Owen Wilson's Gil Pender is so enamored with the magical midnight trips that he even starts to believe that all his problems would somehow go away if he could only live in 1920s Paris. Yet, after he meets Adriana, a woman who shares a similar historical longing, he's forced to finally confront this idealized vision and returns to live for the present.
Midnight in Paris uses history as an important part of its insight, not merely to appeal to audiences with an endearing but ultimately empty gimmick. And hey, I think The Artist is an enjoyable film experience but it ultimately lacks the depth of Woody's exploration of these supposed golden ages. MiP's sobering and even practical comments on nostalgia are not only important for the current artistic landscape but for how we should be living our lives, not dwelling in the past but living in the moment. We should never forget that the past is just another unsatisfying present and "that's what the present is, it's a little unsatisfying because life's a little unsatisfying." And even more so if a middling comedy like The Artist walks away with Best Picture. Here's hoping for some more magic for Midnight in Paris and a Woody Allen film winning the top prize. Like back in '77. Things were so much better then.
For more arguments for and against this year's Oscar nominees, go right HERE.
Your Daily Blend of Entertainment News
Your Daily Blend of Entertainment News
Thank you for signing up to CinemaBlend. You will receive a verification email shortly.
There was a problem. Please refresh the page and try again.