For Your Consideration: Silver Linings Playbook Counters Oscar's Death Obsession With Humor And Honesty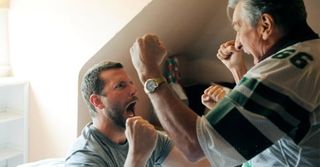 From now until the Friday before the Oscars we'll be running daily pieces about why a film does or does not deserve Best Picture. We've analyzed reasons why Michael Haneke's Amour, Quentin Tarantino's Django Unchained and Benh Zeitlin's Beasts of the Southern Wild all deserve the win. Earlier, a pair of writers both attacked AND defended Tom Hooper's Les Miserables. Now Sean's going to try and liven up the discussion with an argument for David O. Russell's black comedy Silver Linings Playbook.
Is it against the rules for a Best Picture winner to make audiences laugh?
Seriously, this year's crop of Best Picture nominees is way too serious. Amour steadily marches viewers toward a devastating death. Lincoln does the same, albeit in an historical context. Les Miserables lives up to its label, ladling out heaping helpings of sadness and loss – all in the claustrophobic framings of Tom Hooper's camera. Even Django Unchained, Beasts of the Southern Wild and Zero Dark Thirty conclude with significant deaths that cast long shadows over everything that came before.
No one dies in David O. Russell's Silver Linings Playbook, but that isn't why I'm singling it out of this year's Oscar race. No, Playbook needs to win this year's Best Picture race because it reminds us how to live.
Wrapped in a warm blanket of familiar familial dysfunction, Playbook crackles with wit and brutal honesty as it ushers a damaged man named Pat (Bradley Cooper) back into the screwed-up world following a short stint in a mental-health facility. He tells everyone he meets about his still-developing plan to reunite with his ex-wife, Nikki (Brea Bee) … whose adultery caused the violent mental snap that landed Pat in the hospital in the first place. But Nikki's a human MacGuffin, a role player we don't meet until the film's final minutes, and who isn't given a single line of dialogue. She's insignificant to the larger tapestry of human growth and development Russell is weaving on screen.
Every once in a while, films luck into planet-aligning cinematic situations where everyone involved does their best possible work, creating a work of art. Directors can't plan for it, but audiences certainly can celebrate it once it happens. In Silver Linings Playbook, everyone working in front of and behind the camera in service of this uplifting story is operating at the top of their game, and the Academy has gone out of its way to recognize those accomplishments.
The cast, for starters, mesmerizes. Cooper delivers a career-topping performance as Pat. He's so shockingly blunt yet in control of this out-of-control character that he completely sheds the limiting adjective of "the Hangover guy" to reveal a genuine actor lurking beneath his ridiculously good looks. His cohort, Jennifer Lawrence, though only 22, brings a lifetime of experience to the elusive role of Tiffany – a widow protected by the characteristic thick skin of a tough-talking Philadelphia chick. In lesser hands, Tiffany would come off as a poorly-written caricature, the inevitable love interest shoehorned into the plot to "save" Pat from himself. But Lawrence is so brilliant at honestly portraying Tiffany as a person – and not a screenwriter's lazy tool – that she elevates Playbook to Oscar-worthy status.
She's not alone, though. Robert De Niro emerges from his self-inflicted acting coma to deliver an actual, nuanced performance as Pat Sr., a bundle of neuroses tied to his beloved Philadelphia Eagles. Jacki Weaver, also nominated by the Academy, is the cracked foundation that's somehow keeping the family home standing upright. Chris Tucker beefs up a throwaway role, popping in at select moments to steer the narrative forward while simultaneously reminding the audience how close Pat is to slipping backwards into the part of a patient in need of assistance. And a mature Russell, who's firmly entrenched in a filmmaking "groove," corrals all of this crazy like a farmhand gathering cattle, pushing them toward a rewarding finish that somehow revolves around a mediocre result in a dance contest and a failed bet on an NFL football game.
Unlike its Oscar competition, which seem to zero in on the defining aspects of a particular genre, Silver Linings Playbook playfully skips through several recognizable story formats to suit whatever feeling it's trying to convey. It can be a heavy family drama, a light rom-com, a suspenseful sports thriller and a pitch-black comedy … the kind with which Russell initially launched his career. The trick, however, is that Silver Linings Playbook rarely feels like its forcing these transitions. It simply glides like a dancer through multiple "plays" in its storytelling "book," and a fitting conclusion would be a Best Picture Oscar win right before Russell writes "The End" on this unique and rewarding movie.
Sean O'Connell is a journalist and CinemaBlend's Managing Editor. He's frequently found on Twitter at @Sean_OConnell. ReelBlend cohost. A movie junkie who's Infatuated with comic-book films. Helped get the Snyder Cut released, then wrote a book about it.
Your Daily Blend of Entertainment News
Thank you for signing up to CinemaBlend. You will receive a verification email shortly.
There was a problem. Please refresh the page and try again.