For Your Consideration: Beasts Of The Southern Wild Is The Mystical Elixir Oscar Desperately Needs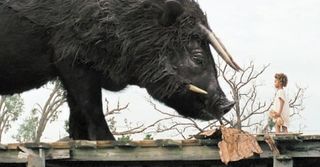 From now until the Friday before the Oscars we'll be running daily pieces about why a film does or does not deserve Best Picture. Katey recently spoke up for Michael Haneke's Amour, while Eric and Mack argued for and against Quentin Tarantino's Django Unchained. Today, Sean goes to bat for Benh Zeitlin's Beasts of the Southern Wild, a Sundance hit that rode waves of audience approval all the way to the Academy Awards.
For movies like Benh Zeitlin's Beasts of the Southern Wild -- lower-budgeted independents with a film-festival pedigree – the Oscar nomination often is considered the "win." These movies, despite their quality, aren't expected to contend with the major studio awards contenders (or, God forbid, a Harvey Weinstein-backed Oscar hopeful). Movies like The Tree of Life, Winter's Bone, Precious and An Education can put "Best Picture Nominee" on their posters and DVD covers, even though we knew at the time that they had zero chance of winning.
I think Beasts has a better-than-average (but still slim) chance at winning Best Picture on Feb. 24, and if it were to walk away with the evening's top prize, I'd be equal parts amazed and thrilled by the Academy's bold decision to forgo the pictures that look prestigious on paper but hardly dared to get down in the dirt like this mesmerizing, magical fable.
Why do I think Beasts has a shot? Because Zeitlin didn't just capitalize on the ridiculous decision to let nine nominees into the Best Picture race – a move that really only means we have eight "runner-up" losers instead of four – he also secured a well-deserved Best Director nod to go along with his film's BP nomination. Can Ben Affleck say that? No, and since he can't, does that mean Argo really is the frontrunner some have claimed it to be?
In addition to the top two nominations, Beasts nabbed nominations for its screenplay and young actress, Quvenzhane Wallis, who is the youngest nominee in Oscar history. If any of those categories start falling in Beasts favor, the heartfelt study of parenting in a forgotten corner of our great nation could be in for a very big night.
And Beasts, in my opinion, deserves the win. The movies ahead of it on most Oscar prognosticator charts – be it Lincoln, Argo or Silver Linings Playbook -- all adhered to some level of formula to tell their stories. Steven Spielberg's solemn slice of American history is a by-the-book biopic propped up by one outstanding lead performance. Affleck's Argo basically boils down to a heist movie, where government officials plot and scheme to remove "valuable" assets (hostages) from an impossible location. Even SLP falls into romantic-comedy tropes that are buoyed by Jennifer Lawrence and Bradley Cooper's performances.
Beasts defies classification. It transcends easy genres to tell a mystical story of a young girl (Wallis) finding her own feet in a landscape – Louisiana's poverty-stricken but proud "Bathtub" neighborhood – that's constantly shifting. It is bold, original filmmaking done on a shoestring budget that is not reflected in its jaw-droppingly authentic production values. I still don't know for sure if Zeitlin and his team created the Bauthtub, or if Katrina-ravaged Louisiana simply looks like a Mardi Gras decimated bayou that was ready to be photographed. I'm certain I don't want to know that answer. It would take a little shine off the magic spell weaved by Zeitlin and his stunning cast of acting amateurs.
Beasts is a longshot for Best Picture. But Zeitlin's Best Director nod gives me hope that Hollywood might dare to honor the groundbreaking, template-defying storytelling happening in this imaginative, divisive but deliriously emotional tone poem. The movie's four Oscar nominations shouldn't be its consolation prize. It's worthy of so much more.
Managing Director at CinemaBlend. ReelBlend cohost. A movie junkie who's Infatuated with comic-book films. Helped get the Snyder Cut released, then wrote a book about it.