Z For Zachariah Trailer Is Nerve-Racking And Tense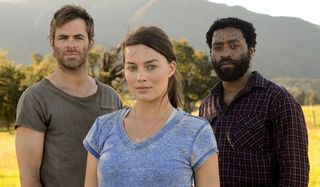 When you think of prestigious film festivals like Sundance, you don't automatically think of post-apocalyptic movies. This year, however, the festival played host to the premiere of Z for Zachariah, an after-the-end-of-the-world drama. (Hell, Mad Max: Fury Road premiered at Cannes this year, so maybe 2015 will go down as the year of post-apocalyptic film festivals.) With a release scheduled for later this year, a new trailer has just hit the airwaves.
With a big name cast that features Chris Pine, Margot Robbie, and Chiwetel Ejiofor, and no one else, this tense three-hander is based on Robert C. O'Brien's best selling young adult novel of the same name. While there are some changes made to the source material—for instance, the heroine in the book is a teenage girl, but appears to be somewhat older in the adaptation—what we see here makes it look like the film follows the roadmap rather closely.
After a nuclear disaster wipes out almost the entire human race, Ann Burden (Robbie) lives in an isolated valley that escaped harm. Completely on her own, she farms and hangs out with her dog, until one day a scientist name John Loomis (Ejiofor) shows up on the scene. They fall in love, but then another dude, Caleb (Chris Pine), arrives, and shit gets weird.
Because no one can ever be nice to each other in these situations, all kinds of ugly things rear up and cause friction. There's romantic and sexual tension between all three, the guys are obviously in competition for Ann, people get jealous and irrational, and, with the state of the world—these could very well be the last three people alive—the stakes are raised that much more. Themes of power and control definitely come into play, and that's right up director Craig Zobel's alley, as his last film, Compliance, trod similar psychological ground, examining the lengths people are willing to go to when they surrender control to others.
This isn't your fast-paced, juiced-up post-apocalyptic battlewagon style of end of the world movie, this is a smaller, more contained story that uses a minimal approach rather than super charged cars and warlords. The world we see here looks suitably bleak and ruined in great detail, and all three actors involved look to be working at or at least near the top of their game, so we could be in for a treat.
However, this is one of those trailers that definitely seems like it gives away the whole damn story. I haven't read the book, so I don't know the whole thing, but this video gets pretty in depth with the plot and the character dynamics. We may not know exactly what happens, but it appears that we have a solid idea. Maybe, and hopefully, I'm totally wrong on this front, but that's the impression this leaves you with.
We'll see if there are any surprises left in store when Z for Zachariah hits theaters August 21.
Your Daily Blend of Entertainment News
Thank you for signing up to CinemaBlend. You will receive a verification email shortly.
There was a problem. Please refresh the page and try again.