Zac Efron And Amber Heard To Flee Turkish Thugs In Autobahn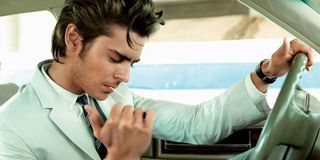 Backpacking across Europe is a time-honored tradition for many, but for Zac Efron and Amber Heard it will be a journey plagued by peril. The Wrap reports the pair have signed on to star in an original feature called Autobahn. Named for the German highway system, this thriller has Efron on board to play an American backpacker whose holiday becomes horrific after he joins a scam for a Turkish gang. Heard will play his American girlfriend, who is sucked into trouble alongside him as they flee thugs in Munich. English writer-director Eran Creevy co-wrote the film with F. Scott Frazier (The Numbers Station), and will direct.
Creevy has a developing reputation for directing noteworthy crime dramas. His 2008 directorial debut Shifty won him the attention of the BAFTA awards, and his follow-up Welcome to the Punch attracted stars including James McAvoy, Andrea Riseborough, and Mark Strong. Autobahn's premise seems to fit well with Creevy's sensibilities, and could be another step for Efron and Heard to advance their careers outside their established sex symbol niches.
After breaking out with a dreamboat role in Disney's chipper High School Musical movies, Efron began to forge a path as "serious actor" with edgier parts in the quirky indie Liberal Arts and the willfully repulsive thriller The Paperboy. For her part, Heard has appeared in such popular movies as Pineapple Express, Zombieland, and The Rum Diary. However, most of her roles to date give her little to do beyond looking pretty. Playing the girlfriend here may not be breaking from her niche. But before a fuller plot line is revealed, it's too soon to be sure.
Autobahn will shoot in Germany this fall.
Your Daily Blend of Entertainment News
Staff writer at CinemaBlend.
Your Daily Blend of Entertainment News
Thank you for signing up to CinemaBlend. You will receive a verification email shortly.
There was a problem. Please refresh the page and try again.