Zach Braff's Kickstarter Has Already Hit $1.5 Million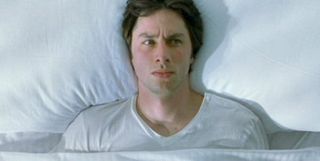 When the Veronica Mars movie was first laid out on Kickstarter, it felt so revolutionary and ballsy that plenty of us were fully captivated, watching in awe as the goal was met before the first day of fundraising was even over. That was barely a month ago-- crazy, right?-- but the notion of very famous people Kickstarting their movie has already started to seem common. Which is basically how Zach Braff made $1.5 million in the last day without anyone really talking about it.
Braff announced his own Kickstarter project yesterday, a film called Wish I Was Here that he says is similar to his debut feature Garden State, and many sections of the Internet went nuts. Hating on Garden State has long been hipster currency, and Braff's Kickstarter seemed to threaten to topple the goodwill around the crowd funding site just a month after Veronica Mars sharply raised its profile. But, as has happened so very many times, the loudest voices on the Internet were not actually the ones that mattered. The Kickstarter page for Wish I Was Here is just a hair below $1.5 million as I write this, and will probably cross $2 million before the end of the day. That's twice as long as it took Veronica Mars, but astonishing all the same.
Braff also went to Entertainment Weekly to talk about a few more details behind the project, including more about the Hollywood financing deal he almost set up before walking away:
For more on that, you can watch the original video and proposal he posted on Kickstarter (there are celebrity cameos in the video, if that's the kind of thing that persuades you to watch). With his financing goals basically met, Braff seems on track to start production this summer, and his end goal is to be at the Sundance Film Festival next January.
Staff Writer at CinemaBlend
Your Daily Blend of Entertainment News
Thank you for signing up to CinemaBlend. You will receive a verification email shortly.
There was a problem. Please refresh the page and try again.