Zack Snyder Confirms He'll Be Offered Justice League If Man Of Steel Succeeds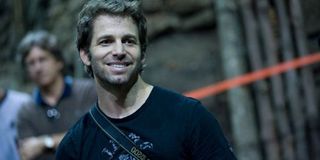 Even with the ecstatic reactions to the latest trailer and mountains of positive buzz, Man of Steel remains an unknown blockbuster quantity-- and therefore so is Justice League. It's obvious that Warner Bros. is eager to come up with their own answer to Disney's growing universe of Marvel movies, and that the Zack Snyder-directed Man of Steel would be the opening volley for Justice League the way Iron Man was for The Avengers. It's also been obvious to us that, if Man of Steel is a success, Snyder would be at the top of the list of directors to anchor the Justice League expansion.
Clearly Snyder knows far more than we do, but for the first time he's admitting it publicly. OK, sort of admitting. In a forthcoming cover story for Empire (source of these great images), the magazine writes that Snyder would be offered Justice League if Man of Steel were a success, and the director himself allows a little speculation about what that huge job might mean:
With Christopher Nolan basically confirmed to want nothing to do with directing Justice League, Snyder is the obvious choice to take it over, especially if Warner Bros. wants to get the movie going on a much faster timetable than Marvel had with The Avengers (there were 4 years between Iron Man and The Avengers, and if Justice League still wants a 2015 release date, there's only 2 years between it and Man of Steel). It must be a weird kind of agony to be Zack Snyder right now, having a completed movie that he probably knows is pretty good, but not yet knowing how the audiences will receive it-- and how they have the power to completely transform his career.
Staff Writer at CinemaBlend
Your Daily Blend of Entertainment News
Thank you for signing up to CinemaBlend. You will receive a verification email shortly.
There was a problem. Please refresh the page and try again.