Zombieland Writers Reese And Wernick Handling The Micronauts Movie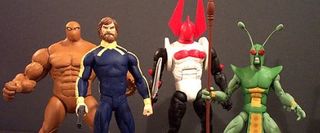 Screenwriters Rhett Reese and Paul Wernick launched their careers into the stratosphere in 2009 with Zombieland, the fresh, funny and most importantly original take on the zombie genre that was a surprise hit of that fall. But unlike that movie's director Ruben Fleischer, who went on to direct the peculiar comedy 30 Minutes or Less and now the flashy period film The Gangster Squad, Reese and Wernick have launched directly into super-lucrative careers as writers for… toys. Well, specifically movies featuring characters who will be toys, including the forthcoming G.I. Joe: Retaliation and a take on the constantly gestating Deadpool movie based on the Marvel character.
Now you can add a third set of toys to that list, and like the G.I. Joes, they're from the Hasbro family. Deadline reports that Reese and Wernick have been set to write a film based on the toy line Micronauts, for producer J.J. Abrams and Paramount Pictures. The movie was mentioned yesterday in the early news about plans for a Transformers 4, and while it'll be a while before the Micronauts are bigger news than the return of the Autobots, their existence in development means Hasbro is still really, really serious about turning as many of their toys as possible into movies.
None of Reese and Wernick's films beyond Zombieland have made it to theaters, so its unclear so far how their personal voices will translate when speaking for giant multi-national franchises. And really, Micronauts is such a blank slate, a little-known toy line with not even a fraction of the back story assigned to the Transformers, that they could potentially do whatever they want with it. But it is a little sad to see two fresh new voices emerge in screenwriting, only to launch right into the remake and franchise machine that so often sucks the life out of screenplays. Hopefully Reese and Wernick have been toiling away these last two years at breaking the mold.
Staff Writer at CinemaBlend
Your Daily Blend of Entertainment News
Thank you for signing up to CinemaBlend. You will receive a verification email shortly.
There was a problem. Please refresh the page and try again.