Who Neil deGrasse Tyson Will Play In Ice Age 5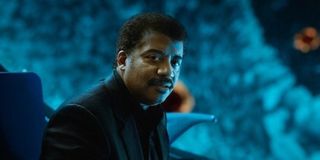 The Ice Age franchise kicked off in 2002, and 14 years later, it's giving moviegoers its fifth installment with Ice Age: Collision Course. There a number of new character's being introduced in the new movie, like Jesse Tyler Ferguson's Shangri Llama and Melissa Rauch's Francine, but one of the more unusual casting additions is a astrophysicist extraordinaire Neil deGrasse Tyson. Most of the population knows him as arguably pop culture's most famous scientist, and he'll be spreading his vast knowledge in the new Ice Age movie as a creature who's...let's just say not all there.
Tyson will play Neil deBuck Weasel in Ice Age: Collision Course, and as you'll see if you head over to EW for the first look at the character, the two of them humorously resemble each other, from the hairstyle to his decorative vest to even hanging out on a replica of the Cosmos ship. Weasel will be a figment of Buck's (voiced by Simon Pegg) imagination who helps the main characters as they try to stop an asteroid from destroying the planet. That sounds right. If the Ice Age characters need some scientific knowledge on dealing with an asteroid (no matter how futile that may be), who better to turn to then a weasel who knows about the galaxy? The only thing is that since Buck is the only one who's seeing Neil deBuck Weasel, there might be something lost in translation if he passes along his imaginary friend's messages.
Over the last few years, Neil deGrasse Tyson has cameoed as himself in movies like Zoolander 2 and Batman v Superman: Dawn of Justice, but voicing an animated caricature is taking things a crazy step further. According to director Michael Thurmeier, it was simply an idea that came up in a story meeting, and while the creative team was intimidated to approach him at first, fortunately for them, he accepted the role. Once he was there, not only did he voice Neil deBuck Weasel, but he also provided some advice on how to ground the movie's science somewhat. According to Thurmeier:
Tyson's appearance is sure to be bizarre, but hey, that's par for the course with the Ice Age movies. Whether the kids watching Ice Age: Collision Course know who he is and understand the meta humor is less likely, but maybe this can serve as the first step towards getting them to watch Cosmos and get their science education on.
Ice Age: Collision Course hits theaters on July 22.
Connoisseur of Marvel, DC, Star Wars, John Wick, MonsterVerse and Doctor Who lore. He's aware he looks like Harry Potter and Clark Kent.
Your Daily Blend of Entertainment News
Thank you for signing up to CinemaBlend. You will receive a verification email shortly.
There was a problem. Please refresh the page and try again.