The New Ben-Hur Doesn't Use CGI In Its Chariot Race, And This Awesome Video Proves It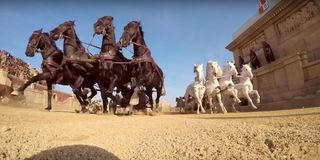 Thanks to modern movie-making technology, it's easy to rely on CGI and other kinds of digital effects when it comes to creating action-packed scenes. However, moviegoers have become so accustomed to these visual wonders that it's become easier to detect what looks fake, which is why practical effects are welcomed whenever possible. For the upcoming Ben-Hur movie, they maneuvered in that direction by shooting an actual chariot race without any CGI assistance, and you can see how they accomplished this in a new video.
Just like in the original Ben-Hur movies, the 2016 remake will feature Judah Ben-Hur (played by Jack Huston) going up against his childhood friend, Messala (played by Toby Kebbell), in a dangerous, high-stakes chariot race. In a new featurette posted by Paramount Pictures, the movie's cast and crew, including director Timur Bekmambetov, explained the steps they took to make the race look as realistic as possible. The actors were dragged by real horses at high speeds around the arena while a truck with a camera attached tracks their movements from the side.
As if those stakes weren't enormous enough, there were also no air bags or brakes, just like the real chariot races from millennia earlier. Bekmambetov compared it to people nowadays enjoying NASCAR, including wanting to see participants crash. Obviously the Ben-Hur production didn't sacrifice the lives of extras so they can properly be trampled by hooves and wheels, but it looks like almost everything else was replicated to look as faithful as possible. That's dedication!
Along with this featurette, a new Ben-Hur trailer also premiered online, providing a deeper look at the third movie adaptation of Lew Wallace's 1880 novel, Ben-Hur: A Tale of the Christ.
As with the previous trailers, we get a look into Ben-Hur's past, his life as a slave and him returning to seek revenge, all with some Morgan Freeman narration. However, one of the biggest differences in this preview is the expanded focus on Jesus Christ (played by Rodrigo Santoro). Jesus gives Ben-Hur water when he's at his weakest as a slave, and near the end of the trailer, Ben tries to rescue Jesus before he is crucified, but the latter stops him, saying he gives his life of his own free will. While Jesus' role in the 1956 movie was small, this trailer definitely makes it clear he'll have a bigger presence in the new version of the story.
Ben-Hur rides into theaters on August 19.
Connoisseur of Marvel, DC, Star Wars, John Wick, MonsterVerse and Doctor Who lore. He's aware he looks like Harry Potter and Clark Kent.
Your Daily Blend of Entertainment News
Thank you for signing up to CinemaBlend. You will receive a verification email shortly.
There was a problem. Please refresh the page and try again.