Morgan Freeman and Jack Huston Are Here To Make Ben-Hur Cool Again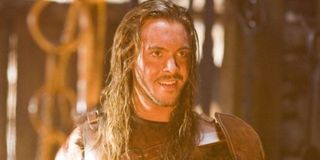 Jack Huston has been confirmed as the titular star for the upcoming remake of Ben-Hur, which will be directed by Timur Bekmambetov and is set to start shooting in Europe next year.
The Boardwalk Empire actor isn't the only addition to the film's burgeoning ensemble, though, as screen-legend Morgan Freeman's presence has been announced too.
MGM and Paramount have been auditioning legions of actors throughout Hollywood in order to land their Ben-Hur, and after his rather spectacular portrayal of Richard Harrow -- the one-eyed, World War I veteran who wears a mask to hide his injury -- on HBO's Boardwalk Empire, it was pretty obvious to all who saw him that Huston would one day land a big, leading-man film role.
There had been various rumors circulating that Jack Huston would actually play Messala, Ben-Hur's former friend who turns into his bitter rival, in Timur Bekmambetov's epic. However, the director clearly saw something in the American Hustle star that convinced him to bump him up into the main part. According to Deadine, "[Huston] read for that role, but Bekmambetov decided instead he had the sympathetic manner and grit to play the title role."
Various actors have been heavily linked with both roles, but now that Huston has been confirmed as Ben-Hur, Tom Hiddleston has become the front-runner for Messala. However, it's still not known if The Avengers and Thor scene-stealer will take the part, as he has numerous other projects that are also vying for his attention.
Deadline also first broke the news that Morgan Freeman -- who was the first actor to be announced for the film -- will play the role of Idlarin, the man who will transform Huston's Judah Ben-Hur from a slave into the most renowned chariot racer in all of the land.
Ben-Hur's Bekmambetov will direct from a script that was at first written by The Way Back's Keith Clarke, and then spruced up by John Ridley, who recently won the 2014 Academy Award for Best Adapted Screenplay after his work on 12 Years A Slave. Their remake of the classic William Wyler-directed 1959 colossus (which won a record 11 Academy Awards) will actually draw more from the 1880 Lew Wallace novel, Ben-Hur: A Tale Of Christ, than its cinematic brethren.
It's also been teased that this version will "play up the parallel storyline of Jesus Christ," but its main area of focus and conflict will still come from the feud between Judah Ben-Hur, who grew up as a Jewish prince, and Messala, the son of a Roman tax collector. The pair originally grew up as best friends, but their relationship dissolved after the Roman Empire took over Jerusalem, and Messala eventually betrays his former pal by manipulating an accident to look as though Judah committed it. This results in him being sold into slavery. Despite this setback, Ben-Hur vows that he will get revenge on his betrayer, and we follow his journey as he tries to do just that.
Ben-Hur has so far been touted for a February 26, 2016 release date, and you can expect the film's final casting decisions to be unveiled before the end of the year.
Your Daily Blend of Entertainment News
Thank you for signing up to CinemaBlend. You will receive a verification email shortly.
There was a problem. Please refresh the page and try again.