Who Suicide Squad Would Be Targeting First, If Amanda Waller Had Her Way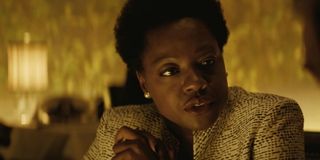 Suicide Squad is full of heinous but charismatic villains. That's what makes is so appealing. However, while you might have thought that Harley Quinn, Deadshot or The Joker would be the baddest of the bunch, it's now been teased that they are all gathered together by Amanda Waller (Viola Davis) to tackle the Enchantress/June Moone (Cara Delevinge), who the intelligence officer obviously believes is one of the most dangerous individuals on the planet.
A new report from Entertainment Weekly has revealed that, soon after bringing together the Suicide Squad, Waller makes the powerful sorceress her number one target. For those of you that don't know, Enchantress is an ancient evil force that is inadvertently unleashed after hundreds of years by June Moone, who she soon possesses. Unfortunately for Waller, her attempts to capture Enchantress are stalled after her proposed program fails to get a green light and is rejected.
Fortunately for Amanda Waller, she'll soon gets her way when Midway City is suddenly overrun and "threatened by a powerful mystical enemy," which allows her to assemble Deadshot (Will Smith), Harley Quinn (Margot Robbie), Diablo (Jay Hernandez), Slipknot (Adam Beach), Killer Croc (Adewale Akinnuoye-Abbaje), each of whom are kept under the watchful eye of the leader of the squad Rick Flag (Joel Jonnaman) and Katana (Karen Fukuhara).
Plus, it also helps that Bruce Wayne has provided explosive devices that are put into the necks of the criminals, who are given the strict rules of listen to their order or you'll die a gory, bloody death. While the above posse have clear intentions to stop this mysterious threat from wreaking havoc, their plans are scuppered by the Joker (Jared Leto), who simply wants to reunite with the love of his life Harley Quinn. It's not clear whether part of this plan is to try and ensnare the Enchantress, too, but we can guess that the conniving Amanda Waller will use everything in her power to either stop, or even perhaps utilize, the Enchantress' unique ability at some point in Suicide Squad.
There's a lot riding on Suicide Squad, because, let's be honest, this summer's blockbuster movie slate has been a little disappointing. Captain America: Civil War might have flourished, but numerous sequels have underwhelmed both financially and critically, while the biggest lashing was saved for Batman V Superman: Dawn Of Justice, which was supposed to kickstart the DC Extended Universe as Marvel's main rival. It didn't, and now that task has been given to Suicide Squad.
Still, rather than pretending like Batman v Superman didn't happen, the actions and alleged death of Superman in the blockbuster is what inspires the government, especially Amanda Waller, to seek alternatives for when an evil alien drops down from the sky to attack Earth. Her solution is the Suicide Squad. Now Warner Bros. will be hoping that Suicide Squad is also the solution to the relatively disappointing start to the DC Extended Universe. We'll see if that's the case when _Suicide Squad _is finally released on August 5, which is now extremely close.
Your Daily Blend of Entertainment News
Thank you for signing up to CinemaBlend. You will receive a verification email shortly.
There was a problem. Please refresh the page and try again.