Joker's New Toys Include A Bat, A Cell Phone And Bad Tattoos In New Suicide Squad Photos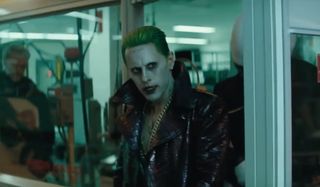 Suicide Squad is packed with criminals, but none of them have reached the same level of evil as The Joker, played by Jared Leto. Even with a little over a month left, there's still a lot we don't about how he fits into the movie, but one thing is for sure: he'll be causing a lot of trouble. The latest photos make that even more clear, and as the fourth live action cinematic version, this Joker will have a few new toys to use on his crimes sprees.
These images, posted by Twitter user Kyle Jones, leaked early last night, shortly before Batman v Superman: Dawn of Justice (both the theatrical and extended editions) was available for digital purchase. These pictures are from a Suicide Squad featurette, one of the many bonus features attached to Batman v Superman's home release. First up, we have a shot Joker going shirtless while holding a baseball bat. As we've know for a while, this version of the Clown Prince of Crime has tattoos all over his body, which is meant to "tell his story," according to director David Ayer. This is one of our best looks at the ink he proudly displays, from the demonic jester to displaying his own moniker. As for the baseball bat, while it isn't a weapon he frequently uses in the comics, it definitely works as a way for him to dish out pain, and presumably this is why Harley Quinn wields one as well.
Next up, Joker is having a chat with someone (possibly Diablo) at an upscale lounge. We don't know what's going on here, but we briefly saw him in this same room in the last full-length trailer asking someone if they're "sweet-talking him." Judging by that look on Joker's face, the other guy should be worried about what he has to say.
Third, Joker appears to be entranced by whatever is on his phone (complete with custom phone case). Although Heath Ledger's Joker used a cell phone several times during The Dark Knight, this is the first time that a live action Joker has used a smartphone. All those apps must make it easier for him to plot his crimes, though I'd like to think he plays Candy Crush whenever he has spare time.
Finally, we have Joker opening up a metal box that probably should be left alone, judging by the "Caution" sign behind him. He appears to be in the same facility from the previous trailers that his costumed goons were shooting up. Obviously he plans on stealing some kind of state of the art technology, biological or otherwise, but it remains to be seen whether he'll escape with it or be foiled by Batman in the process. I'm guessing (and hoping for the sake of civilians) it's the latter.
You can see Jared Leto's Joker in action when Suicide Squad hits theaters on August 5.
Connoisseur of Marvel, DC, Star Wars, John Wick, MonsterVerse and Doctor Who lore. He's aware he looks like Harry Potter and Clark Kent.
Your Daily Blend of Entertainment News
Thank you for signing up to CinemaBlend. You will receive a verification email shortly.
There was a problem. Please refresh the page and try again.