Alec Baldwin's The Boss Baby Looks Ridiculous, Here's What We Saw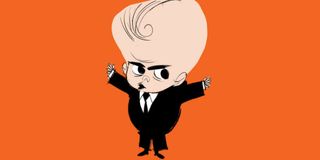 After seeing what DreamWorks had in store with Trolls this year at San Diego Comic-Con, nobody expected that they had more up their sleeves. Well, they were all wrong, because as soon as the Trolls panel came to a close in Hall H, actor Alec Baldwin surprised everyone by taking the stage to introduce new footage of his upcoming DreamWorks animated feature, The Boss Baby. Cinema Blend was in the Hall H crowd to check out the footage, and believe us when we tell you, this movie looks ridiculously awesome.
The first exclusive Comic-Con scene shown from The Boss Baby in Hall H established the underlying conflict of the affair. When a couple has a new baby, their first child, Tim, begins to imagine that something more sinister might actually be at play. One night, Tim wanders into the Baby's room to find him wearing a suit and scheming with an unknown party on the phone. On top of it all, he somehow magically has the deep, baritone voice of Alec Baldwin, which only makes things more confusing.
Baby corners Tim in the bedroom and monologues about how, as the new kid in the family, he will require far more attention, and that there's only so much love the parents have to go around. In his best Glengarry Glen Ross impression, Baby announces that he's the big man on campus and that Tim should watch his back if he thinks about telling anyone about his scheme. He's channeling his inner Jack Donaghey, and we loved every second of it.
The other sequence shown by the filmmakers really hammered home the bizarre vibe that The Boss Baby wants to aim for. Having seemingly found evidence that his younger brother has more sinister intentions than the average baby, Tim attempts to get a tape recording of his talking younger sibling to his mother -- only to come face to face with Baby and his gang of other conscripted babies. Cornering Tim like an old-time mob movie, an action sequence begins that legitimately puts the airport sequence in Captain America: Civil War to shame for its sheer level of destruction. Windows get destroyed, children go flying, and there's even a few explosions thrown in for good measure.
We haven't seen the entire film, but it's fairly clear that The Boss Baby intends to show its events as taking place within Tim's imagination, rather than actually occurring in real life. In fact, the chaotic events seem to occur in a realm only the kids can truly comprehend, much like the classic cartoon, Rugrats. This is further backed up by only moment where things cut away from his point of view, which showed the fight as it actually took place. What was a gigantic action set piece was actually just two kids playing in a yard -- albeit somewhat aggressively.
The Boss Baby is still quite a way off, but the early footage of the project has piqued out interest early. We will bring you more information related to Alec Baldwin's upcoming project -- and everything else coming out of San Diego Comic-Con -- as more information becomes available. The Boss Baby will hit theaters on March 31, 2017.
Your Daily Blend of Entertainment News
Originally from Connecticut, Conner grew up in San Diego and graduated from Chapman University in 2014. He now lives in Los Angeles working in and around the entertainment industry and can mostly be found binging horror movies and chugging coffee.