Alec Baldwin Admits Rock Of Ages Was A Horrible Movie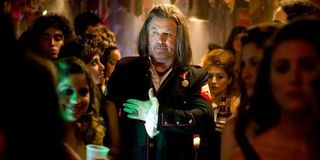 Alec Baldwin has never been one to shy away from speaking his mind. But it seems no matter how much his off-the-cuff remarks get him in trouble, Baldwin won't stop from shooting straight, even if that means talking trash on his own filmography. The Wrap reports that Baldwin did just that at the American Magazine Media Conference in New York on Tuesday night, in front of a wide array of reporters.
Baldwin began by lamenting the state of movies today, saying, "Now people's own lives are more interesting than what's in the theaters," and, "They only want Spider-Man." When criticizing contemporary Hollywood, he was quick to reference his own contributions to subpar cinema calling the jukebox musical Rock of Ages a "horrible movie."
Based on the hit Broadway musical, Rock of Ages revels in old school rock songs while telling the story of two young lovers looking for fame and fortune on the Sunset Strip in 1987. Despite boasting a cast studded with stars like Tom Cruise, Russell Brand, Alec Baldwin, Bryan Cranston, and Catherine Zeta-Jones, and stacking its soundtrack with classic anthems like "Paradise City," "I want to Know What Love Is," and "Don't Stop Believing," Rock of Ages was a flop in every way imaginable. Critics panned it, and ultimately the $75 million movie made just $59 million worldwide.
"It was a complete disaster," Baldwin confessed to the press before explaining he'd signed on to it because he like director Adam Shankman and was interested in working with Brand and Cruise. But he soon regretted that, explaining, "A week in you go, 'Oh God, what have I done?'"
Rock of Ages may be an easy target as it was such a spectacular failure, so maybe Baldwin deserves little credit for admitting it's horrible. However, by my count he does deserve some praise for realizing this movie was going to be trash, and committing to his performance with full-force anyway. While Rock of Ages may have a lot of faults, let no one say one of them is Baldwin phoning it in. When I saw the film, I was alternately bored by the bland love story between Julianne Hough and Diego Boneta, and elated by the outright bonkers performances of everyone around them. And without shame, I admit the song between Brand and Baldwin was my absolute favorite moment. Watch it below and know it's bizarre glory:
Your Daily Blend of Entertainment News
Staff writer at CinemaBlend.