Blair Witch Is A Unnerving Return For The Resurrected Franchise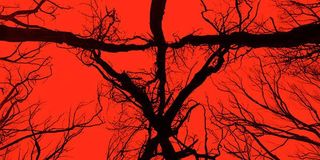 Daniel Myrick and Eduardo Sanchez's 1999 hit The Blair Witch Project will probably be forever remembered in pop culture history for its marketing campaign -- trying to convince audiences that the found footage element was 100% genuine -- but those who haven't seen it since its initial release should really reward themselves with a rewatch. The movie has aged remarkably well, and while it is arguably responsible for starting the glut of found footage in the horror genre, it also remains one of the greatest uses of the medium with its tremendous atmosphere and shocking big moments.
Seventeen years later, we now have the series' second sequel, director Adam Wingard's Blair Witch (following 2000's notorious Blair Witch 2: Book of Shadows), which just had its world premiere at San Diego Comic-Con 2016. And while the movie does get brought down by the aspects that can categorize it as a "remakequel" to a certain degree, it offers enough interesting new ideas to the mythology, as well as scares, to be both a worthy follow-up, and a welcomed return of the franchise.
Written by Adam Wingard's longtime collaborator Simon Barrett, Blair Witch picks up 15 years after the original movie, and centers around James Donahue (James Allen McCune), the brother of Heather Donahue from The Blair Witch Project. While his sibling has been missing for years, the fact that her body was never found has him still believing that she might be alive -- and this belief only becomes stronger after he discovers found footage online. Teaming with his friend Lisa (Callie Hernandez), who is filming a documentary about his quest for answers, as well as pals Peter (Brandon Scott) and Ashley (Corbin Reid), he reaches out to the couple that posted the video -- Lane (Wes Robinson) and Talia (Valorie Curry) -- and all together they head out into the notorious Black Hills Forest. While they go in skeptical of any and all supernatural stories, it soon becomes very clear that they legends they've all heard are very real.
Because it's been nearly two decades since the release of The Blair Witch Project, there will be large portions of the movie-going audience that will experience Blair Witch as their first taste of the franchise, but those that know and appreciate/love the 1999 hit will have a hard time shaking the sameness that ties the two movies together. In broad strokes, both are pieces of found footage horror that take a group of doubting young people into the woods for some supernatural terror, and without getting too far into spoilers, the comparisons are only made stronger due to structure and key plot locations. Essentially, the way the new title is constructed feels more based on the most logical direction to take the story, rather than the most creative.
The remakequel elements are just as frustrating as those found in Star Wars: The Force Awakens, but like with J.J. Abrams' film, Blair Witch does manage to take old ideas and spin a few new ones into them -- which has the effect of creating plenty of solid scares as a bonus. While still utilizing the same creepy stick figures and stacked stones, the sequel also turns things up a few notches where supernatural activity in the forest is concerned. It disturbingly messes with audiences and characters' perceptions of time, and one member of the team is even affected physically (adding a nice disgusting bit of body horror to the larger mix). Technology allows for some new opportunities aesthetically -- such as shots from personal drones and wearable cameras that provide perfect direct point of view -- and combined with Adam Wingard's sensibilities and timing, the result is more than a few moments that will pop you out of your chair.
Blair Witch is a fun horror film and a nice rejuvenation for the franchise, and it's worth giving a look when it arrives in theaters on September 16th. If I can leave you with one last piece of advice, however, it would be this: if you don't wish to know every detail and big scare from the movie going in, do yourself a favor and keep a considerable distance from the trailer that was just released. You can thank me later.
Assistant Managing Editor
NJ native who calls LA home and lives in a Dreamatorium. A decade-plus CinemaBlend veteran who is endlessly enthusiastic about the career he's dreamt of since seventh grade.
Your Daily Blend of Entertainment News
Thank you for signing up to CinemaBlend. You will receive a verification email shortly.
There was a problem. Please refresh the page and try again.