A Surprise Doctor Strange Cast Member Has Just Been Revealed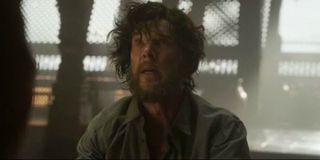 Good news Miss Congeniality fans. One of the cult comedy's leading actors secured themselves a Marvel role, and managed to keep it quiet. No, unfortunately it's not Sandra Bullock. Instead it's Benjamin Bratt, who will appear opposite Benedict Cumberbatch in the upcoming Doctor Strange.
Doctor Strange made a big splash at Comic Con over the weekend, where a brand new trailer and poster for the film were released. Benjamin Bratt's involvement was actually hidden in amidst the latter, with the eagle-eyed MCU Exchange the first to spot it. The actor's name popped up as the sixth lead on the one-sheet, behind those of Benedict Cumberbatch, Chiwetel Ejiofor, Rachel McAdams, Benedict Wong, and Michael Stuhlburg, but ahead of Scott Adkins, Mads Mikkelson and Tilda Swinton. Read into that what you will.
Benjamin Bratt is mostly known for his leading role as Rey Curtis on Law & Order, which he starred in between 1995 and 1999 over the course of seasons 6, 7, 8, and 9. Bratt's small-screen adventures have also included parts on _24: Live Another Day _and Private Practice, while he had a recurring role on Modern Family, too.
At the same time, though, Bratt has also developed a rather impressive big-screen resume, too. Not only has he had roles in Miss Congeniality, Demolition Man, Clear And Present Danger, Traffic, Thumbsucker, Cloudy With A Chance of Meatballs 1 & 2, and Despicable Me 2, but this year alone he's starred in Ride Along 2, Special Correspondents, and The Infiltrator. In fact, he's currently the only confirmed voice in Pixar's hugely anticipated Coco, too.
Plus, Bratt has a bit of history when it comes to the comic-book genre. Not only did he voice both Zod and Superman in the direct-to-video animated superhero film Justice League: Gods And Monsters, but he starred opposite Halle Berry as the male-lead in 2004's Catwoman.
He probably shouldn't go around reminding too many people of his involvement in the latter, though. What with it being widely regarded as one of the worst superhero films ever made.
At the moment, we don't have even the smallest inkling about Benjamin Bratt's character in Doctor Strange. All that we can suggest is re-watching Doctor Strange's trailer again and again to try and spot him. Especially since it's an absolute joy to behold, too.
We'll find out exactly who Benjamin Bratt is playing in Doctor Strange when the latest addition to the Marvel Cinematic Universe is finally thrust upon us on November 4.
Your Daily Blend of Entertainment News