The New Doctor Strange Trailer Is Mystifying And Powerful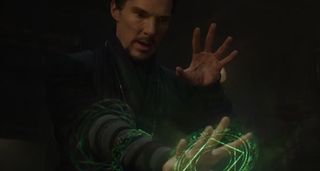 Among the offerings at the highly anticipated Marvel panel in Hall H at Comic-Con today was a new look at Doctor Strange. The second trailer for the Benedict Cumberbatch film has already made its way online, and you can check it out ahead...
This November, magic will finally debut in the Marvel Cinematic Universe through Doctor Strange. We got our first look at the Sorcerer Supreme's movie in April, but that was mainly focused on his life before discovering magic. The latest trailer gives us a much better taste of what he'll be like as a superhero. After reminding us how Stephen Strange's surgical career ended after a car crash, we see Benedict Cumberbatch's Stephen Strange speaking with Tilda Swinton's Ancient One about magic and other realities. Just like the rest of us would be, he's clearly baffled by people being able to teleport, concur energy, make layers of buildings fold on themselves and other kinds of insanity.
Fortunately for Strange, learning how to wield magic is done the same way as how he learned to become a doctor: with a lot of studying and practice. We then see him training and learning from Chiwetel Ejiofor's Mordo and Benedict Wong's Wong (I know, it's confusing), but they caution him about his path and the challenges ahead. We don't know what the full extent of his training is yet, but it will have to be enough, as he'll eventually have to face Mads Mikkelsen's Kaecilius, one of The Ancient One's former followers who has now formed his own sect. Thankfully, Strange's time at The Ancient One's compound won't be just about magic, as they also have Wi-Fi! We also get brief looks at Rachel McAdams' character, one of Strange's surgeon colleagues who will keep him grounded to his old life.
We've known for a while that Doctor Strange will be Marvel's most visually stimulating movie yet, but this trailer definitely ramps up just how twisted it's going to be. From an energy whip to jumping on titled buildings, the mystic forces allow the character in this movie to accomplish feats that haven't been seen in the MCU yet. For those of you who see this in 3D, you might want to bring some aspirin just in case. As for Stephen Strange, this trailer definitely does a better job of showing him as a mystic protector, especially when he's fully seen wearing the cloak and costume. He's not quite as Sorcerer Supreme level yet, but with his new skills and powerful artifacts (like the Eye of Agamotto), he'll have to embrace his new destiny as Earth's newest superhero.
Doctor Strange will work its magic in theaters on November 4. Let us know what you think of the latest trailer in the comments below.
Connoisseur of Marvel, DC, Star Wars, John Wick, MonsterVerse and Doctor Who lore. He's aware he looks like Harry Potter and Clark Kent.
Your Daily Blend of Entertainment News
Thank you for signing up to CinemaBlend. You will receive a verification email shortly.
There was a problem. Please refresh the page and try again.