The Death Note Movie Just Added A Justice League Star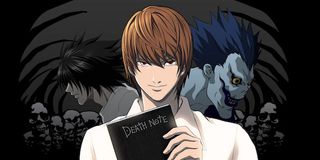 Netflix has been a source for original TV programming for years now, but lately, they've been building a name for themselves putting out their own movies. One of the higher profile feature-length projects hitting the streaming service next year is Death Note, based on the long-running manga series of the same name. The movie has been slowly gathering its cast for nearly a year, but today brought Death Note its biggest name yet, as Willem Dafoe has been cast to play the being who unleashed the Death Note book onto Earth.
Dafoe will provide his voice as Ryuk in the Adam Wingard-directed Death Note movie, as reported by Mashable. He joins a cast that consists of Nat Wolff, Margaret Qualley, Keith Stanfield, Paul Nakauchi and Shea Whigham. Dafoe's other upcoming projects appearing in The Great Wall later this year and playing Aquaman's advisor, Vulko, in Justice League next year. Death Note was originally meant to be a theatrical movie released by Warner Bros, but it was later moved to Netflix. Production has been going on since late June, so now that Dafoe has been added, it looks like we have all of the main cast assembled.
Ryuk is a Shinigami, an extra dimensional being who must kill humans in order to expand its own lifespan. He's the one responsible for dropping the Death Note into our realm, a notebook which allows anyone holding it to kill the person of their choosing simply by writing their name down within its pages while picturing their face. Why did he do this? For fun. Just like in the manga and anime, teenager Light Turner (Light Yagami in the manga) will find the main Death Note book, and going mad with power, he'll start killing those he deems necessary in order to "cleanse" the world. Looking to the original source material, we can presumably expect Willem Dafoe's version of Ryuk to take amusement in Light's problems and be cagey with the human when he asks for his assistance or advice.
Even though we won't see Willem Dafoe's face in the Death Note movie, him being cast as Ryuk is par for the course. The actor has spent a good portion of his career playing villainous and disreputable characters, from Norman Osborn/Green Goblin in the Sam Raimi Spider-Man movies to Max Schreck in Shadow of the Vampire. That voice is perfect for a demon-like creature. It's too soon to tell how the Death Note movie will fare on Netflix, but if it does well, the platform may end up ordering a sequel. If that happens, you can bet that Dafoe will return to cause more havoc as Ryuk.
Death Note will premiere on Netflix sometime in 2017. Stay tuned to Cinema Blend for more news on the movie as it comes in.
Connoisseur of Marvel, DC, Star Wars, John Wick, MonsterVerse and Doctor Who lore. He's aware he looks like Harry Potter and Clark Kent.
Your Daily Blend of Entertainment News
Thank you for signing up to CinemaBlend. You will receive a verification email shortly.
There was a problem. Please refresh the page and try again.